200 cows die of starvation at a shelter run by BJP leader in Chhattisgarh
Updated on Aug 18, 2017 09:04 PM IST
According to doctors present at the spot, cows died due to "starvation and lack of medicines". BJP leader Harish Verma, who runs the shelter, attributed the deaths to a wall collapse two days ago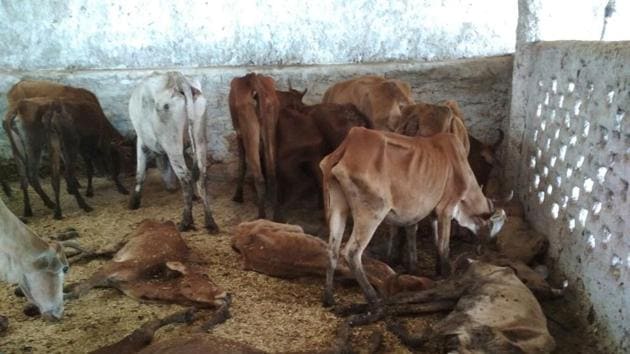 A Bharatiya Janata Party (BJP) leader was arrested on Friday after at least 200 cows died allegedly of starvation and lack of medicines at his cow shelter in Rajpur village of Chhattisgarh's Durg district.
The officials have, so far, confirmed 30 starvation-related deaths.
Villagers, however, alleged that the number of deaths would be 200 and most of them have been buried near the shelter. Several carcasses, other than those buried, were found in the vicinity, they alleged.
The BJP leader, Harish Verma, who is also the vice president of Jamul Nagar Nigam, has been running the shelter for last seven years.
"He was arrested on Friday evening after being charged under sections 4 and 6 of Chhattisgarh Agricultural Cattle Preservation act -2004, Section 11 of Prevention of Cruelty to Animals Act 1960 and Section 409 of Indian Penal Code (IPC)," police said.
"We noticed JCB machines operating near the cow shelter two days ago and we informed some media persons. When we reached here, we found that many trenches were being dug to bury the dead cows lying on the ground. They were at least 200 in number," said Seva Ram Sahu, the Rajpur Sarpanch's husband.
According to the doctors present at the spot, cows died due to "starvation and lack of medicines".
However, the BJP leader, Harish Verma attributed the deaths to collapsing of a wall two days ago.
"At this stage, the reason behind the cow deaths seems to be lack of fodder. The post mortem of 27 cows have been done in last two days, " said MK Chawala , deputy director , veterinary department of Durg district.
"The cows buried near the shelter are yet to be exhumed," he said.
Another 50 cows, said to be critical, are being treated. "The number of deaths may rise ," the doctor added.
A local sub-divisional magistrate (SDM) , Rajesh Ratre, claimed the exact death figures are yet to ascertained and investigation were on.
"Villagers claimed that more than 200 cows died in last few days because of lack of fodder, which seems to be true . We will submit a detailed report to the district magistrate and action would be taken accordingly," Patre said.
Verma alleged that the state government did not provide the money for the shelter which he has been demanding for 2 years.
"My gaushala (cow shelter) is overcrowded . There are more than 650 cows against the capacity of 220. I have intimated the government many times that I am not able feed them, but in vain. More than Rs 10 lakh meant for the gaushala is pending with the government but they have not granted till now. I am not guilty for the deaths," added Harish Verma.
Police are waiting for a formal complaint to initiate action against the BJP leader.
"The Gau Seva Ayog intends to register a case of breach of trust and negligence. We will register an FIR against the leader once the complaint is registered," said Deepanshu Kabra, IG Durg.
AK Panigrahi, secretary, Gau Seva Ayog, Chhattisgarh said, "We have found irregularities in the functioning of the Gauhala and thus the grants were suspended. But government grant is not the only source of income for running a shelter."
There are 115 gaushalas in Chhattisgarh having 26,000 bovines.
Personalise your news feed. Follow trending topics