2G spectrum scam verdict: Emotional Raja punches the air, Kanimozhi thanks supporters
Updated on Dec 21, 2017 08:47 PM IST
A CBI special court has acquitted all the accused in the 2G spectrum case, including former telecom minister A Raja and DMK MP Kanimozhi.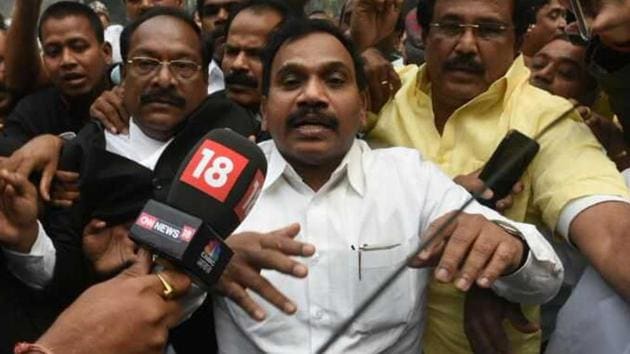 A special CBI court on Thursday acquitted all accused in the 2G spectrum allocation scam cases, including former telecom minister A Raja and DMK MP Kanimozhi.
Special CBI judge OP Saini gave judgements in separate cases lodged by the CBI and the ED in the infamous scam that rocked the UPA government. (Catch LIVE updates here)
The scam relates to the granting of 2G spectrum licence allocations in 2007-08 that the Comptroller and Auditor General of India (CAG) alleged caused a notional loss of Rs 1.76 lakh crore.
Others acquitted in the case are former telecom secretary Siddharth Behura, Raja's private secretary in the telecom department, RK Chandolia, Swan Telecom promoters Shahid Balwa and Vinod Goenka, Unitech Ltd MD Sanjay Chandra and three top executives of Anil Ambani-led Reliance Group -- Gautam Doshi, Surendra Pipara and Hari Nair.
Directors of Kusegaon Fruits and Vegetables Pvt Ltd Asif Balwa and Rajiv Agarwal, Kalaignar TV director Sharad Kumar and Bollywood producer Karim Morani are also acquitted in the case.
Besides them, three telecom firms — Swan Telecom Pvt Ltd (STPL), Reliance Telecom Ltd and Unitech Wireless (Tamil Nadu) Ltd — were also acquitted.
Seven years and 155 witness statements later, the verdict was an emotional moment for all those acquitted.
Here are their reactions, minutes after the verdict:
"I would love to thank everyone who stood by me": Karunanidhi's daughter and DMK's Rajya Sabha member Kanimozhi.
An emotional A Raja came out of the courtroom and punched in the air. Holding tears back, he said: "I am happy with the court order."
"It's a huge victory for us. Sanjay will finally transact his business in normal course," said Unitech MD Sanjay Chandra's wife.
"I am very happy. Will read the judgment once the news sinks in. Definitely a vindication of our stand. It's a turning point for us," said Essar group director Prashant Ruia.
"It's a new innings, our stand is vindicated," said Hari Nair, executive of Reliance Telecom.
"Victory begins now. With political motives this case was put in us. Conspiracies were hatched against us but all have been blown away now," said senior DMK leader, Durai Murugan.
Personalise your news feed. Follow trending topics