3 killed as cyclone Fani batters Odisha; Rs 1,000 cr released, says PM
India Meteorological Department said the Cyclone Fani — the strongest to hit India in five years — is gradually weakening and moving towards West Bengal after which it will enter Bangladesh.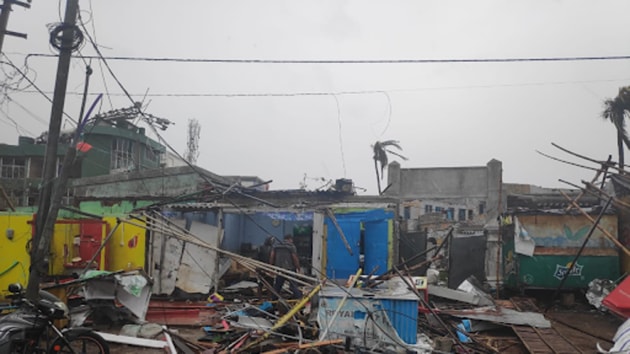 Updated on May 09, 2020 08:55 PM IST
At least three people were killed on Friday as Cyclone Fani battered Odisha, causing extensive damage in Puri and many others parts of the eastern state.
India Meteorological Department said the Cyclone Fani — the strongest to hit India in five years — is gradually weakening and moving towards West Bengal after which it will enter Bangladesh. Heavy rains, along with strong winds, will continue throughout Friday in Odisha, where more than a million people have been evacuated.
"After making landfall this morning, Cyclone Fani has started weakening and it's likely to enter Bangladesh by tomorrow evening. No cyclone ever had such a long duration in April," KJ Ramesh, director general of IMD, said while speaking to reporters.
Watch: Furious Cyclone Fani strikes Odisha, will weaken and move to Bangladesh
Prime Minister Narendra Modi said on Friday the Centre has released more than Rs 1,000 crore to all the states, which will face the brunt of Cyclone Fani that made landfall near Puri.
Prime Minister Modi, who was addressing an election rally in Rajasthan, said the Centre is in touch with government in Odisha, West Bengal, Andhra Pradesh, Tamil Nadu and Puducherry.
Follow LIVE updates here.
"I took the latest update from officers. I held a review meeting yesterday (on Thursday). More than Rs 1,000 cr was release to concerned governments in advance. The NDRF, Indian Coast Guard, army, navy and Air Force are working with the administration. I assure the affected people that the entire nation and the Centre are with them," Modi said.
Also read | Mamata Banerjee cancels all political programmes as cyclone Fani hits Odisha
Videos tweeted by the officials of the Press Information Bureau showed the how winds gusting up to 200kmph damaged the roof of AIIMS in state capital Bhubaneswar and caused extensive damage in the temple town of Puri.
New agency ANI reported that a 32-year-old woman, a helper at Coach Repair Workshop in Mancheswar, gave birth to a baby girl in a railway hospital in the morning. It added that the baby has been named Fani after the cyclonic storm.
Cyclonic storm Fani made landfall in Odisha's Puri district wreaking havoc on Friday morning damaging houses, uprooting thousands of trees and electricity poles. The Odisha government has evacuated more than a million people from districts affected by India's strongest summertime cyclone in the last 43 years and asked people to remain indoors.
The India Meteorological Department said Cyclone Fani is expected to weaken with a wind speed of 150-160km per hour and that it will weaken and move north-northeastwards. By evening, it may weaken into a severe cyclonic storm over the extreme northern part of Odisha, it added.
The system is then very likely to continue to move north-northeastwards, weaken gradually and emerge into Gangetic West Bengal as a "severe cyclonic storm" by the early morning of May 4.
It is very likely to move further north-northeastwards and emerge into Bangladesh on May 4 evening as a cyclonic storm.
Also read | Cyclone Fani smacks Odisha with 180 km/hr winds,damaging houses, uprooting trees
Rains and strong winds also lashed Odisha's capital Bhubaneswar and Cuttack and Bhadrak on Friday as the extremely severe Cyclone Fani hit power supply.
All shops were closed in state capital Bhubaneswar and Cuttack and Bhadrak towns the state. The streets were completely empty with no vehicle, except for a handful of private cars, plying.
Flight operations from Bhubaneswar were suspended from Thursday midnight and from Kolkata from Friday morning, as the cyclone — packing winds gusting up to 200 kilometres per hour and torrential rains — approached India's eastern coast. West Bengal also closed the airport in its state capital of at Kolkata.
The East Coast Railway said it has cancelled ten more trains — seven trains on May 3, one train on May 4, one train on May 6 one train on May 7. The railways had earlier cancelled 147 trains from May 1 to May 3.
Hundreds of disaster management personnel were deployed in the state, and doctors and other medical staff were told to defer any leave until May 15.
The Indian Coast Guard and the Indian Navy have deployed ships and helicopters for relief and rescue operations while the Indian Army and the Indian Air Force units in the three states have also been put on standby.
The ministry of shipping has disengaged all ships at Paradip Port and has deployed emergency vessels.
Also watch | What cyclone Fani's landfall at Puri looked like
The strongest ever cyclone to hit Odisha came in October 1999 while the second biggest, Cyclone Phailin hit the coast in October 2013.
Cyclone Titli that hit Andhra Pradesh coast in October last year, had killed 61 people, many of them in tribal-dominated Gajapati district and wreaked huge damage in Odisha as it changed its direction and moved towards the northeast after making landfall.
Topics
Close Story
Personalise your news feed. Follow trending topics