30 cattle die of starvation at animal shelter in Andhra Pradesh
Decomposed carcasses of around 30 cattle were found rotting away in heaps of dung on the premises of the Society for Prevention of Cruelty towards Animals (SPCA) in East Godavari district.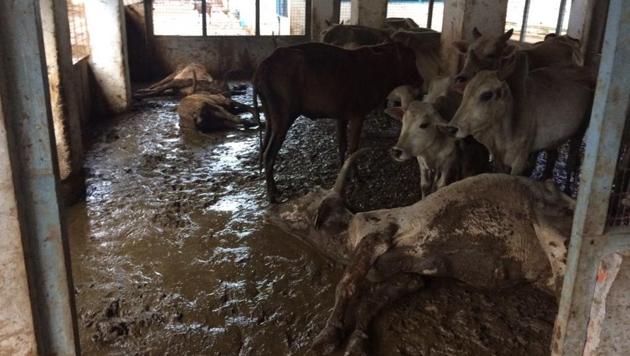 Updated on Jul 20, 2017 08:49 PM IST
Around 30 cattle, including cows, have starved to death at a shelter in Andhra Pradesh, officials said, highlighting the neglect animals face while people are being killed in the name of cow protection.
Officials on Wednesday found decomposed carcasses rotting away in heaps of dung on the premises of the Society for Prevention of Cruelty towards Animals (SPCA) shelter at Kakinada in East Godavari district.
"We have recovered 14 carcasses of cattle believed to have died on Tuesday. Four more cattle died on Wednesday," joint director of animal husbandry V Venkateshwar Rao told Hindustan Times.
Many of the around 400 animals that survived were in a bad shape. Twenty-two were moved to "safer locations" on Wednesday while some more were to be shifted out on Thursday.
Rao said 10-12 cattle died earlier but the bodies seemed to have been removed by the organisers.
Independent sources, however, said 11 animals died on Wednesday alone.
"There was no fodder and water at the centre and the cattle have apparently been starving for quite some time," Rao said.
The animals that survived were virtually in "skin-to-bone condition and were not even in a position to take intravenous fluids and injections", said Rao, who was part of a team of officials from the animal husbandry, revenue and municipal departments that visited the shelter.
There were no protective sheds and more than 450 cattle were crammed in the space meant for 200 animals, he said.
"There was no attempt to clean the premises, which had knee-deep dung and slush. Heavy rains in the last two days made their condition worse," Rao said.
Cows and bullocks recovered from animal smugglers were kept at the shelter. The organisers, who volunteered to take care of the animals, had failed in their duty, he said.
SPCA joint secretary Gopal R Surabathula admitted that 20 cattle died in the last few days but said officials were exaggerating the figures.
"On Tuesday, seven cattle died as they were already sick and they could not withstand the heavy rain," he said.
Most of the animals were brought to them in a bad condition, saying they were not fed properly while being transported.
By the time they were brought to the shelter, they were sick. It was not right to blame SPCA, he said but added they didn't have the money for fodder.
"We have not been getting any donations. Those who were donating cattle feed and medicines regularly in the past are also not supplying them regularly. What can we do?" he asked.
The district administration has begun cleaning the premises and would provide fodder and medicine to the rescued animals, Rao said.
Like in most states, there is a ban on cow slaughter in Andhra Pradesh but there is no such restriction on bull or buffalo.
As the Centre and states come up with strict laws and punishment against smuggling and slaughtering, old cattle face neglect as farmers don't have the means to care for the animals.
Farmers and traders are afraid to cull animals, many of which are sent to animals shelters that are crowded. Starvation deaths are quite common in these sheds across the country.
Close Story