30 ex-Maoists turn new leaf, join women commando team in Chhattisgarh
Published on May 07, 2019 07:55 PM IST
The Chhattisgarh Police hopes that the deployment of the women commandoes will encourage other women Maoists to join mainstream forces.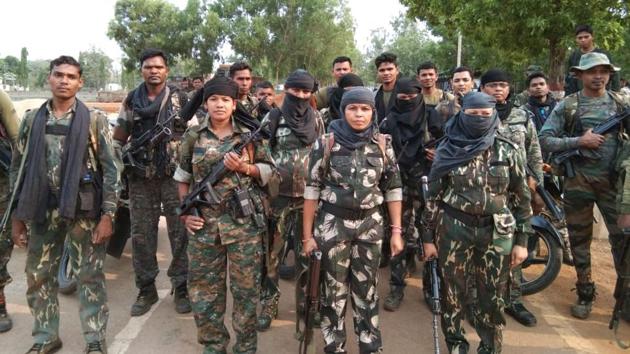 The Chhattisgarh police have for the first time recruited 30 surrendered women Maoists into a commando unit in Dantewada of Bastar region and have deployed them in Malangir.
But their deployment is not only for fighting. It is also a bid to lure Maoists women to join mainstream forces, police said.
This platoon of district reserve guard (DRG) named as "Danteshwari Ladake" (Danteshwari fighters) are out for operation in the jungles of Malangir area committee of CPI (Maoist) in which the BJP MLA, a Doordarshan journalist and about a dozen policemen were killed in last six months.
The DRGs are the front line fighters in Bastar and the recruits are mainly local tribals, surrendered Maoists and former members of special police officers.
The DRGs earned accolades for their well executed strikes in the Maoists' self-proclaimed liberated zones like Abhujmad and south Sukma.
"We have recruited 30 local tribal women and made a separate DRG platoon for women commandos. In Dantewada, there are five male platoons of DRG and this women platoon is the sixth one. The women recruited are surrendered Maoists cadres and wives of surrendered cadres. The platoon is led by women DSP Dineshwari Nand," said SP Dantewada Abhishek Pallava.
Pallava further said that women commandos are deployed by Chhattisgarh police and paramilitary forces in the region but for the first time the commandos are being used in full-fledged operations in the area.
"We have given them special anti-Maoist training regarding tactics and warfare and till now they are very effective in swift short team action teams. The important part is these commandos can easily camouflage themselves as villagers in civil dress or wear sarees like villagers," said the SP.
Police say that these commandos are effective as women Maoists outnumber men in Bastar especially in Malangir area committee of Darbha division.
The platoon commander, DSP Dineshwari Nand claims that the women commandos will be more effective than any other force fighting in Bastar.
"We are ready to fight with Maoists in the same way as our male colleagues to liberate our land from their clutches. We are confident that we hunt them and will bring laurels to Bastar police," Nandi added.
Police officers believe that induction of women commandos will surely bring down the complaints of human rights violations.
"These commandos will be handy in arrests of women Maoists and also reduce the risk of complaints of false human right allegations related to women," the SP added.
Intelligence officers also believe that the unit will be very effective in collecting local human intelligence. "Most of the intelligence sources in this area are women and hence this platoon can be very effective," said an intelligence officer.
"We are motivating women Naxals to surrender and join mainstream force through this unit and secondly trying to help surrendered women cadres to get a job in police and thus facilitate their proper rehabilitation and reintegration in society," the SP added.
Close Story
Personalise your news feed. Follow trending topics