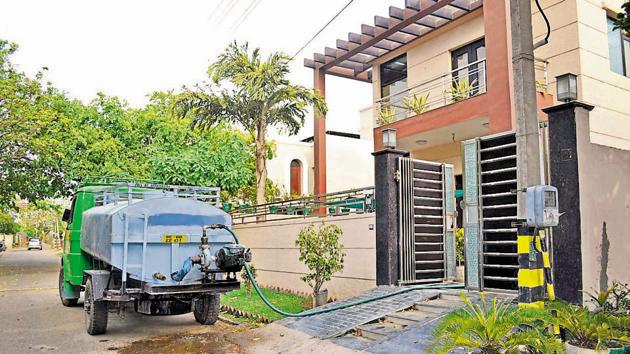 A bath in half-a-bucket: Early dry days set in for Bengaluru
In some parts of the city, the groundwater level has sunk to more than 1,100 feet when it was found at 650-700 feet a few years ago, and even suppliers of water tankers are finding it difficult to source water.
Hindustan Times, Bengaluru | By Sibi Arasu
UPDATED ON MAR 25, 2019 11:52 AM IST
Across Bengaluru, on the WhatsApp groups of resident welfare associations, the prime topic of discussion is water, or lack of enough of it. At what time will residents receive water? How can they conserve some of the little water they do get?
On one group, created for residents of a 100-unit apartment complex in HSR Layout, in south-east Bengaluru, pointers for saving water include using paper cups for drinking tea and coffee and limiting your daily bath to seven mugs of water. A resident on the same group laments that he has started buying cans of drinking water for bathing.
In the northern suburbs of Bengaluru, home to the bulk of the information technology industry, the water crisis is even worse. "There is a veritable bidding war now for tankers. In January, I was paying Rs 600 for a 6,000 litre tanker and now the rates have gone as high as Rs 1,400," says Vishnu Prasad, an IT professional and resident of Bellandur.
He adds, "Even money doesn't ensure that we get water as the tanker mafia holds us to ransom, by saying the next apartment is willing to pay Rs 1,500, and will you be able to match their price? I don't remember March in Bengaluru being this bad ever before."
Bengaluru's depleting groundwater level, the poor quality of water supplied by tankers and lack of access to a piped water system for hundreds thousands of residents has resulted in a water crisis that has arrived even before the full-fledged onset of summer.
In some parts of the city, the groundwater level has sunk to more than 1,100 feet when it was found at 650-700 feet a few years ago, and even suppliers of water tankers are finding it difficult to source water.
Quit literally, the city's residents been left high and dry.
The northern and eastern peripheries of the city are facing the brunt of the shortage, especially the Bellandur ward that stretches across 26 square kilometres—most wards in the city are not more than 5 square kilometres. Last week, representatives of over 50 large apartment complexes in the ward met their local MLA and Bruhat Bengaluru Mahanagar Palike (BBMP) officials, demanding a solution.
The bulk of these apartments are located within the 110 villages that became part of Greater Bengaluru a decade ago. Unlike the rest of the city, many of them do not have piped water connections given by the Bengaluru Water Supply and Sewerage Board (BWSSB), which draws water from the river Cauvery and its tributaries.
BBMP promised 60 water tankers every day to supply water to residents of these apartments. Srikanth Narasimhan of the Bengaluru Apartments Federation (BAF), an organisation that has residents of more than 400 apartments from across Bengaluru as its members, said.
"Bellandur is the worst affected area right now. Unfortunately, such a severe crisis was waiting to happen. Groundwater levels have dipped incredibly low and we cannot rely on the city authorities to provide water. I think the only solution is to take matters into our own hands. We need to reduce and reuse water and actively work towards recharging water levels."
From plenty to penury
Hiriya Kempegowda, a feudal lord under the Vijayanagara Empire, founded what is now the city of Bengaluru in the 16th century. Among his crowning glories is the inter-connected lake systems he created for supply of water for drinking and irrigation in the region. Bengaluru was once known as the city of a thousand lakes. A survey by the district administration in 2015 identified 1,600-odd lakes in the region. Unfortunately, more than 85% of them have disappeared since the year 1800. A 1986 census counted 389 lakes which have come down to 81 now.
The city is known for many firsts when it comes to water usage and supply. The creation of the Hesaraghata Lake across the Arkavathi River in 1896 gave it the first large reservoir for filtered water supply. The city was also the first to install water meters to monitor water use, way back in 1935.
From being a trendsetter in water supply and conservation, Bengaluru has now become an example of all that is wrong with Indian cities when it comes to water management. It is considered now to be among the most water-stressed cities in the world, ranking in the same league as South Africa's Cape Town, which recently came to the brink of a 'day zero' situation, where the entire city would run out of water.
"Even a few decades back, 262 lakes were present in Bengaluru, now there are only 81 left," says S Vishwanath, a water rights activist and urban planner based in Bengaluru. "Universal water supply and drainage connectivity is the only solution. Unless the city invests big time in infrastructure, it will be impossible to cater to the water needs of its residents. Tankers, groundwater extraction and other decentralised systems cannot be the solution as things stand now."
Sharachchandra Lele of the Ashoka Trust for Research in Ecology and the Environment (ATREE) in Bengaluru traces the crisis to the rapid depletion of groundwater resources, leakages and inadequate distribution of available water.
"The BWSSB focuses on supplying only to those connected to their pipelines, which is about 70% of the city. The remaining 30%, which is many lakh people, are getting water from tankers and borewells and when it runs out, they only have ad hoc responses. The city administrators need to start thinking of all citizens as their customers and not just the connected ones," Lele said.
Lele and his colleagues have found that the 10% of people in the city, in terms of affluence, were consuming 340 litres per capita per day (lpcd) while 50% of residents use below 90 lpcd.
Attempts at conservation
To be sure, residents of the city have largely reacted positively to the water crisis this year.
Many apartment complexes have begun rationing water, supplying to the flats for only a few hours each day. Use of water aerators, which reduces water flow from taps, as well as dual piping or double plumbing, a system of supplying both potable and recycled water, depending on usage, is also being installed in houses across the city.
Various citizens groups have also initiated social media campaigns to encourage water conservation.
In the last few weeks, the #Halfbucketchallenge has been trending on social media. It t encourages residents to bathe using only half a bucket of water every day.
Another upcoming social media campaign is the Bellandur 2500 Challenge, which is an attempt to create at least 2,500 recharged wells across the ward, so that they act as effective rainwater harvesting systems when the monsoons arrive in a few months. "We hope if the groundwater is recharged enough, then we won't face a crisis-like situation at least for the next few years," said Vishnu Prasad of Bellandur.
A grim situation
Despite such efforts, the situation remains grim.
"In the ten years I've been in Bengaluru, this year is definitely among the worst I have seen. We pay taxes on time and we are law-obeying citizens but then we still have to pay extra for an essential commodity like water," Sujatha Srivatsav, a resident of SJR Redwoods Apartments, a complex of 150 flats on Sarjapur Road, said,
"It is really frustrating because even the water that we do get is so bad that we have started buying mineral water to drink," she added. "Even after paying, our estate manager has had to stand on the road and physically flag down water tankers and coax them to supply to our apartment. We are completely at their mercy."
Senior officials of the BWSSB say residents connected to its piped water supply system won't have to suffer. Kemparamaiah, chief engineer, BWSSB, said, "For those who are in our network there is no problem this year. We are also encouraging more apartments to get piped water supply and in the areas that have joined BBMP more recently, we were expecting 50,000 applicants for new connections but only 6,000 have applied. Those who have not taken the connection are suffering."
According to the BWSSB, 5,500 borewells in Bengaluru are under its control and it has 975,000 piped water connections.
Nonetheless, with a long summer ahead, Bengaluru citizens are preparing for the worst. As Samrat Basak, director, urban water, at the World Resources Institute (WRI) said.
"We are using groundwater like an overdrawn credit card that is never refilled or recharged. Even if you have money and want to pay for water, it will still be hard because we aren't able to find any to extract from."
Close