A clear message: 'Give a deadline for building temple'
Nov 26, 2018 08:13 AM IST
A group of youngsters from the adjoining Basti district backed the demand for construction of Ram temple. Said Pradeep Kumar, 21, "We have faith in the Modi government. It will find a solution and pave the way for construction of the temple."
At least 50,000 people turned up for the Vishva Hindu Parishad's (VHP) Dharma Sabha in Ayodhya on Sunday, which called for a firm deadline for work to begin on the Ram temple in Ayodhya and for the Supreme Court to 'understand' Hindu sentiments on the issue.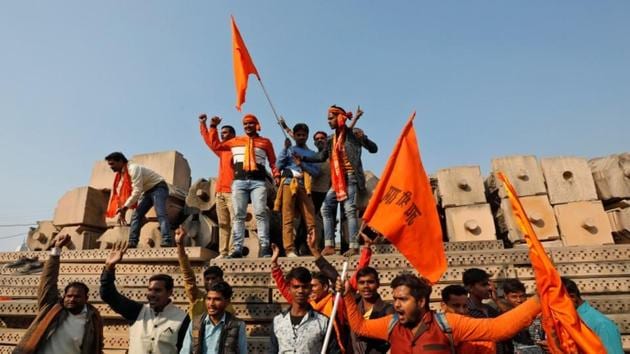 Touted as the biggest congregation of Hindus in the temple town after the 2002 'shila daan' ceremony organised by the VHP, the rally, which passed of peacefully, raised the pitch for a firm commitment from the Centre on when the temple construction would begin, be it via legislation or an ordinance, with people seeking to send out a message to the government: It is time.
Radhey Shyam, 62, from Ram Nagar in Barabanki district said, "My purpose of coming here is to send a message to the Narendra Modi government. Through this rally, we will be able to send a message." Pratibha Kushwaha, who came from Kaushambi, expressed irritation over the delay in the Supreme Court hearing of the Ram Janmabhoomi-Babri Masjid title suit case.
"I have faith on Prime Minister Narendra Modi. But the top court must understand that some cases cannot be left pending for an indefinite period. The court has failed to deliver an early judgment and so the government must bring an ordinance for the temple's construction ," he said.
A group of students from Banaras Hindu University, led by their professor Kaushal Kishore Mishra of the political science department, turned up too.
"This Dharma Sabha is a message from the VHP and the RSS to the Modi government to think seriously about constructing the Ram temple," Mishra said.
A group of youngsters from the adjoining Basti district backed the demand. Said Pradeep Kumar, 21, "We have faith in the Modi government. It will find a solution and pave the way for construction of the temple."
The local administration had made massive security arrangements, but the event passed off peacefully.In view of previous experiences, there were fears that the crowd might move towards the city after the rally, and severe restrictions on vehicular movement were imposed, inconveniencing locals.
The makeshift temple saw a huge turnout after the rally, giving the police a tough time. In the first shift, from 7 am to 11am, 28,000 people visited the temple. In the second shift, from 1pm to 5pm, around 42,000 people offered prayers.
Iqbal Ansari, a petitioner in the Ram Janmabhoomi-Babri Masjid case, expressed relief that "Ayodhya's Hindu-Muslim harmony remained intact."
The head priest of the makeshift temple, Satyendra Das, however, questioned the very need for the rally.
"First of all this rally was not needed in Ayodhya. But I am happy that it passed off peacefully," he said.