Four-day probe, one-day trial: Minor receives speedy justice in MP rape case
Updated on Aug 21, 2018 08:15 PM IST
Juvenile Justice Board Judge Tripti Pande awarded two years' imprisonment to the accused on Monday after wrapping up the trial in seven hours.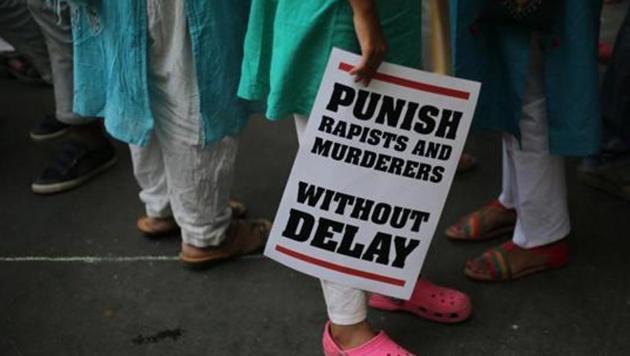 Ujjain (MP) |
Sandeep Vatsa
The Juvenile Justice Board at Malanvasa sent a 14-year-old boy to a remand home for two years on Monday after finding him guilty of sexual assault in a case that took just four days to probe and a single day to adjudicate.
This case was the latest in a series of sexual assaults that were wrapped up in an expedited manner to ensure speedy justice for minor rape victims in the state.
Ujjain superintendent of police Sachin Atulkar said the juvenile was accused of raping a four-year-old girl at a village under Ghatiya tehsil on the afternoon of August 15. According to him, the girl was playing with other children at the accused's residence when he sexually assaulted her. The girl's parents filed a complaint at the Ghatiya police station after she informed them about the incident.
It took the police just four days to locate the accused, who had fled to Rajasthan, and file a charge sheet against him on the basis of DNA evidence. The sentence was passed by judge Tripti Pandey after a trial that extended over just one day. Advocate Dipendra Malu appeared on behalf of the state.
Atulkar said the investigation could be completed in a speedy manner due to the efforts of additional superintendents of police Pramod Sonkar and Neeraj Pandey; deputy superintendent of police Arvind Tiwari; senior Forensic Science Laboratory (FSL) scientist Arvind Nayak; FSL officer Preeti Gaikward; advocate Malu; and sub-inspectors Balram Ninama and Chandani Gaud. They will be suitably rewarded, he added.
Madhya Pradesh has lately made it a point to wrap up rape cases involving minors expeditiously. A judge in Katni district handed out the capital punishment to a rape accused after a trial that ran for just five days in July. On Tuesday, a special court in Mandsaur took a little over a week to award the death sentence to a couple of friends who tried to murder an eight-year-old girl after raping her.