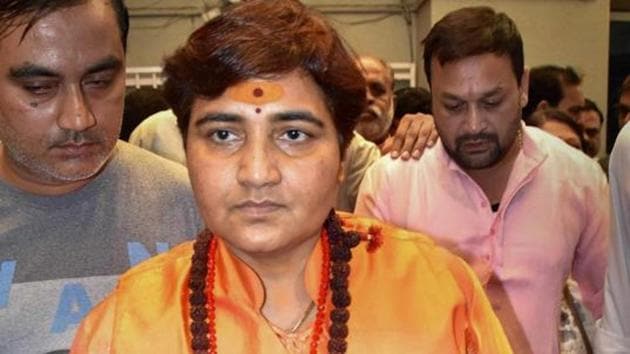 After backlash on 'Godse a patriot' remark, Pragya Thakur apologises to BJP
Pragya Thakur, who provoked national outrage by calling Mahatma Gandhi's assassin Nathuram Godse a patriot, has apologised for her comments.
UPDATED ON MAY 13, 2020 08:32 PM IST
Pragya Thakur, who provoked national outrage by calling Mahatma Gandhi's assassin Nathuram Godse a patriot, has apologised for her comments, the BJP's Madhya Pradesh unit said after a barrage of criticism from political parties across the board.
"She has apologized for her statement. She said she had said it by mistake." Rajneesh Agrawal, a BJP spokesperson in Madhya Pradesh said. Another BJP leader added that the BJP's state president Rakesh Singh had also called up Thakur and ticked her off.
The Congress had called her patriot remark an "insult to the country" and demanded an apology from Prime Minister Narendra Modi and BJP boss Amit Shah. "India's soul is under attack from the successors of Nathuram Godse, the BJP ruling dispensation," said Congress spokesperson Randeep Singh Surjewala.
WATCH | 'I respect Mahatma': BJP's Pragya apologises after calling Godse a patriot
Digvijaya Singh, the former Madhya Pradesh chief minister who was pitted against Pragya Thakur for the Bhopal seat, said glorifying Nathuram Godse wasn't patriotism either. "It is sedition," he said on Pragya Thakur's controversial statement.
Pragya Thakur, responding to a question on actor-turned-politician Kamal Haasan's remark that Godse was the first extremist in independent India and a Hindu, had retorted: "Nathuram Godse was a 'deshbhakt' (patriot), is a 'deshbhakt' and people consider him as a 'deshbhakt'."
Also read | 'Nathuram Godse was a patriot,' says BJP's Pragya Thakur; sparks outrage
The BJP candidate from Bhopal was speaking to the media after a roadshow in Agar-Malwa, 185 km east of Bhopal on Thursday when she had made these comments.
Pragya Thakur, who prefers to be addressed as Sadhvi and wears a saffron robe, went on to add that people who call him (Godse) a terrorist should introspect and predicted that such people would be given a fitting reply in the elections.
Nathuram Godse, a right-wing activist, had assassinated Mahatma Gandhi on January 30, 1948. Eight men were convicted in the murder trial inside Red Fort by a special court, constituted by an order of the central government. Godse and co-conspirator Narayan Apte were hanged for the murder of the Father of the Nation on November 15, 1949.
The BJP had rushed into damage control mode and promptly condemned her statement.
"We condemn it. She should apologise publicly for this statement," BJP's GVL Narasimha Rao said in a statement to ANI.
This is not the first time that Thakur, who is a key accused in the 2008 Malegaon bomb blast that claimed six lives and injured over a 100, has made such controversial statements and then apologized.
Soon after she was made BJP's candidate from Bhopal, the 49-year old had said that Mumbai ATS chief Hemant Karkare, who had died fighting terrorists during the 26/11 attacks in Mumbai was killed due to her 'curse'. She had accused Karkare of torturing her while she was in custody for the Malegaon blast case.
She also claimed that she had participated in the demolition of the Babri Masjid in 1992.
Thakur's comments had then led the Election Commission to bar her from campaigning for three days and an FIR was also lodged against for her remarks over Babri Masjid. She had apologized for her remarks on Karkare and had clarified that she was not involved in Babri Masjid demolition.
Also read | 'Will build new Vidyasagar statue at same spot', says PM Modi
Close