Air pollution: Kejriwal, Mann seek Centre's help, promise solution by Nov 2023
Updated on Nov 05, 2022 12:15 AM IST
Delhi's pollution levels remained in the 'Severe+' category on Friday morning, with an hourly Air Quality Index (AQI) of 453 at 7 am, for the second consecutive day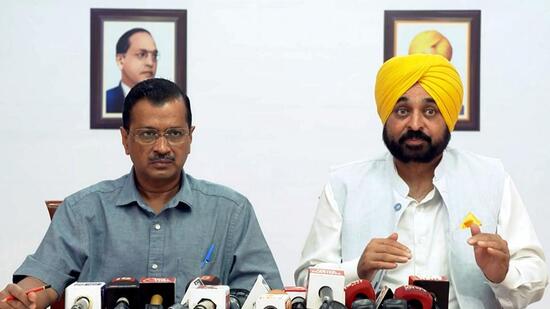 Delhi chief minister and Aam Aadmi Party convener Arvind Kejriwal and Punjab CM Bhagwant Mann on Friday said the AAP government in Punjab accepts responsibility for continuing farm fires in the agrarian state, which have bathed the Capital and its surrounding regions in a haze of toxic smoke, pointing out that the party has been in power in the state only for six months and promising that the situation will improve next year.
"We got only six months. Six months are very less. The initial months went into improving law and order, etc. We will find a solution in the next one year. We will explore multiple options, including crop diversification," Kejriwal said during a joint press conference he addressed jointly with Mann.
He did, however, ask other states in the region and the Centre to play their part in curbing the pollution menace.
"Air pollution has turned severe in Delhi. People are finding it difficult to breathe. It is not a Delhi specific problem, but of entire north India. The Centre needs to hold joint meetings to work on the causes of pollution, this is the only way to save North India from the impact of pollution. The AQI levels of the cities of UP, Haryana, Bihar and Rajasthan are as bad as Delhi. The AQI level of all these cities is not worsening because of Kejriwal; if abusing Kejriwal can reduce pollution, go ahead and do it. Only Delhi and Punjab governments are not responsible for it. Several local and regional factors are also behind the problem because air is not confined to one state," Kejriwal said.
The press conference comes after AAP faced a barrage of criticism from BJP leaders and Union ministers for not tackling stubble burning in Punjab. On Wednesday, Union environment minister Bhupender Yadav said on Twitter the number of farm fires in Punjab have gone up 19%, while those in Haryana, have come down 30.6%.
On Thursday, he tweeted out a composite video where Kejriwal is shown extolling a virtues of a biodecomposer to degrade stubble, and power plants that generate energy from stubble, and further demanding specific timelines from the Punjab government on tackling the problem. The video dates back to a period when the Congress was in power in the state.
On Friday, after Kejriwal's press conference, Union commerce and industry minister and BJP leader Piyush Goyal said the AAP-led state governments in Delhi and Punjab have failed to check air pollution. He said, "The pollution situation is serious. Despite their big assurances, the state (Delhi) government is failing at all fronts whether it is air pollution levels, keeping a check on corruption, improving infrastructure or fulfilling its own promises. This government has failed on each front and BJP has started the campaign today so that people can give a befitting reply to them (AAP)."
On Friday, BJP spokesperson Sambit Patra also hit out at Kejriwal, noting that of the 4,172 farm fires reported on Thursday, 3,634 were in Punjab.
Delhi's AQI remained in the severe category on Friday, with the 24-hour average coming in at 447 at 4 pm. On Thursday, when the reading touched 450, the Central Pollution Control Board called for a series of restrictions under Stage IV of the graded response action plan (Grap), such as ban on the entry of diesel trucks and the use of older private diesel vehicles.
On Friday, in a separate press conference, Delhi environment minister Gopal Rai said, "Only CNG and electric trucks will be allowed to enter Delhi other than those serving essential services. The Delhi government has constituted a six-member monitoring committee to oversee the same. Delhi government's offices will run at 50% capacity while 50% employees will work from home and 500 new eco-buses will be run in the state. A special task force will be formed for the hotspots. 33 teams have also been formed to monitor industrial pollution."
"This is not the time to point fingers or indulge in blame game. Politics on this issue will not bring any solution to the problem. It does not help the people. People need solutions," Kejriwal said, appealing to the Centre to come forward and "save the entire north India".
Mann seconded Kejriwal and said, "We and our government take responsibility for stubble burning in Punjab. We got only six months. Six months is a very short time. We were successful in some spheres."
"We accept that stubble burning is happening in Punjab, but farmers are not responsible for it. They will stop burning stubble if they get a solution," Kejriwal said.
In September, Mann had claimed that the Centre has turned down the Punjab government's proposal to contribute and provide cash incentives to farmers so that they do not burn stubble. The Punjab government had proposed giving ₹2,500 per acre to farmers growing paddy, and had suggested that the Centre pay ₹1,500 per acre while ₹1,000 would be borne by the Punjab and Delhi governments.
The BJP has maintained that Punjab is yet to spend around ₹492 crore available with it for crop residue management machines.
In a series of tweets, Yadav wrote, "In the last 5 years, the Central Government gave ₹1,347 crore for crop residue management machines to Punjab... Last year, ₹212 crore were left unspent. This year, the Central Govt gave Punjab ₹280 crore for crop residue management machines. So about ₹492 crore was available but the state govt chose to sit with the funds forcing helpless farmers to burn the crop residue."
The Commission for Air Quality Management (CAQM) has warned that the situation may worsen in the coming days as farm fires rage in Punjab . That is, unless the weather gods smile on Delhi.
"We will take several measures along with the people. Farmers do not want to burn stubble. They have a very short window between two crops (harvesting paddy and sowing wheat). By next November, we will solve this problem. Over the years we will try and encourage crop diversification. The farmers also themselves say that they want to move away from growing paddy as the water levels in their fields have been depleting because of the crop. Out of 7.5 million acres of land that we have in Punjab, in at least 3.5 million acres, the issue of stubble does not arise. It is only in the remaining 40 lakh acres that this problem persists. We will find ways to stop this crop residue burning in these remaining 40 lakh acres by next year. We will see what incentives we can give to the farmers to diversify their crop and grow other crops such as mustard, millet, sunflower and so on," Mann said.
Pitching for a "zero tolerance policy"approach to fix the problem, Anumita Roychowdhury, executive director for research and advocacy at the Centre for Science and Environment (CSE), said, "We all know what the solutions are – absorbing biomass at industries and power plants, crop diversification, which is a long-term measure, etc. The government is already supporting these solutions and we need to quickly implement them on a massive scale. It is time to examine what's working and what's not. The solutions must be a combination of multiple measures and factors. Since the problem involves many states, there has to be large-scale coordination."
Leader of opposition in Delhi Ramvir Singh Bidhuri said the Punjab government had enough time to address stubble burning but it failed to do anything.
BJP IT-cell head Amit Malviya too hit out at Kejriwal, and said, "Kejriwal had all the solutions to fight pollution when his party was not in power in Punjab. Why hasn't he done even 1% of what he was preaching from the pulpit? Arvind Kejriwal is an unmitigated disaster, who has bought media silence on his failures with his outsized ad spends."