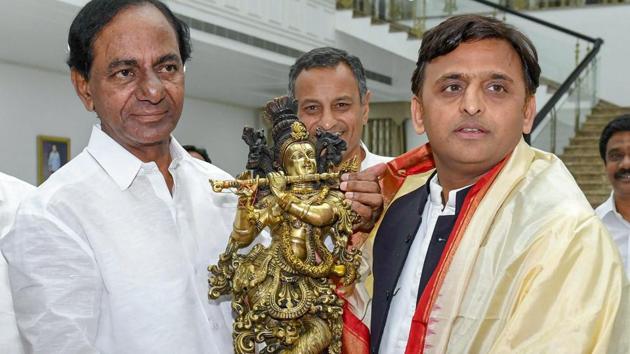 Akhilesh meets KCR to discuss federal front, says only regional parties can halt BJP juggernaut
Akhilesh Yadav evaded a reply on whether the proposed front would include the Congress.
UPDATED ON MAY 02, 2018 11:04 PM IST
Samajwadi Party president and former Uttar Pradesh chief minister Akhilesh Yadav on Wednesday said only regional parties had the capacity to halt the juggernaut of the Bharatiya Janata Party (BJP).
Akhilesh, who was visiting Hyderabad for discussions with Telangana chief minister K Chandrasekhar Rao (KCR) on the formation of a federal front as a third alternative at the national level, said it was time for regional parties to come together to defeat "communal forces".
"A good beginning for bringing about a qualitative change in the country was already made when we defeated the BJP in the constituencies once represented by the chief minister and deputy chief minister in Uttar Pradesh with the support of the Bahujan Samaj Party and others. The people of the country are looking for an alternative and we are ready for extending our support," Akhilesh said, speaking to the media after his meeting with KCR.
The SP president, however, evaded a reply on whether the proposed front would include the Congress. "It is not the time to rake up debate on such an issue at a time when all the parties are coming together to pull down the BJP from power. It is not correct to talk about whether a particular party will remain in the front or not," he said. Telangana CM Rao, however, said nobody was an untouchable for the proposed federal front.
"Ultimately, the driving force of our alliance will be the agenda, which we are going to propose for the betterment of the country which has been lagging behind many other fellow nations in terms of development. Anybody can join. For us, no party is untouchable. We will keep our options open," he said.
Close