Alpesh Thakor sits on 'goodwill' fast, says he is not 'into spreading hatred'
The attacks led to exodus of an estimated over 60,000 migrants, mostly from Uttar Pradesh, Bihar and Madhya Pradesh.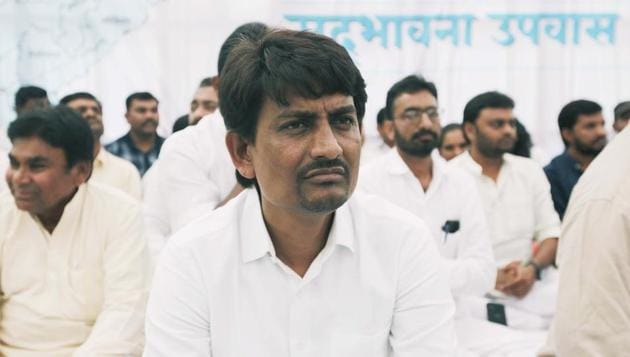 Updated on Oct 12, 2018 12:08 AM IST
Ahmedabad |
Press Trust of India
Ahmedabad Congress MLA Alpesh Thakor, who is facing the heat over the violence against Hindi-speaking migrants in Gujarat, observed a day-long fast here Thursday for "peace and harmony" and asserted that "no one is a migrant".
He said "someone may have said something" against the migrants and that the real culprits were those who politicised the issue.
He ended the fast in the evening by drinking a glass of juice offered by a girl from a migrant family.
After the rape of a 14-month-old girl in Sabarkantha district on September 28 and arrest of a labourer hailing from Bihar for the crime, six districts in Gujarat have seen incidents of violence against Hindi-speaking migrant workers.
The attacks led to exodus of an estimated over 60,000 migrants, mostly from Uttar Pradesh, Bihar and Madhya Pradesh.
In his address at the venue of his 'Sadbhavna Upvas' (goodwill fast) near his residence in the Ranip area here, Thakor said he never spread hatred.
"I am not at all into spreading hatred... We (his Thakor community) are pure at heart. It is possible that someone may have said something (against migrants), but we do not harbour grudge against anyone. We never indulge in violence," the Congress MLA said.
Thakor, who heads the Gujarat Kshatriya Thakor Sena, also said that some people were doing politics over the issue.
"We all need to make sure that Gujarat's image does not get tarnished. No one is a migrant... The word itself is wrong. I think some people are politicising the issue. This is an attempt at breaking the country. Dividing people in the name of states is something I or my people will never do," he said.
Thakor also said that Congress president Rahul Gandhi has advised him to practise the politics that unites the country.
"At this point, I remember Rahul Gandhi's words. He told me, Alpesh, we should do the politics which unites the country," Thakor said.
"Alpesh, we have to make people understand the language of love," he further quoted the Congress president as saying.
The ruling BJP has been blaming Thakor and his Kshatriya Thakor Sena for the outbreak of violence. Chief Minister Vijay Rupani on Tuesday asked Rahul Gandhi to take action against Thakor.
Earlier, following the rape of the 14-month-old girl, Thakor, the MLA from Radhanpur, had blamed a "non-Gujarati" for the crime.
On Thursday, however, he said he was merely demanding
justice for the girl.
"I will never allow this poison of division to spread among the people in Gujarat... I think such incidents are part of a conspiracy to malign Gujarat's image," he said.
"We only demanded justice for the 14-month-old girl. But we were labelled as anti-nationals. We are not like that. We may have committed some mistakes, but we are not those who harass poor people. Ultimately, we all are Indians. Stop maligning our image," Thakor said.
While police have arrested several members of the Thakor Sena in connection with the attacks on Hindi-speaking people, the Congress MLA claimed that police were harassing "innocent" youths from his community.
Before starting his fast, Thakor visited the Sabarmati Ashram and paid tributes to Mahatma Gandhi in the morning.
Thakor told reporters that he will visit other states to spread the message of "peace and harmony", and urged the members of his community to invite migrants to their homes or visit them to build an atmosphere of trust.
Gujarat Congress president Amit Chavda and Leader of opposition Paresh Dhanani visited the fast venue.
Earlier, Thakor had been caught up in a controversy when a video purportedly showing him berating migrant workers went viral after the rape incident.
The BJP termed his fast "drama".
"As the Congress is caught in its own trap, their MLA was forced do such political drama....What is the use of such drama after spreading poison of casteism and regionalism? The Congress should answer why their MLAs are issuing inflammatory statements which are responsible for the spread of violence," BJP spokesperson Bharat Pandya said.
State authorities had said on Wednesday that the number of migrant workers leaving Gujarat has come down after they were reassured about their safety. PTI PJT PD KRK GVS
Close Story