Amit Shah blows poll bugle, eyes 350+ seats in 2019 Lok Sabha elections
Updated on Aug 18, 2017 12:44 PM IST
BJP president Amit Shah on Thursday blew the bugle for 2019 Lok Sabha election, setting a target of winning over 350 parliamentary seats.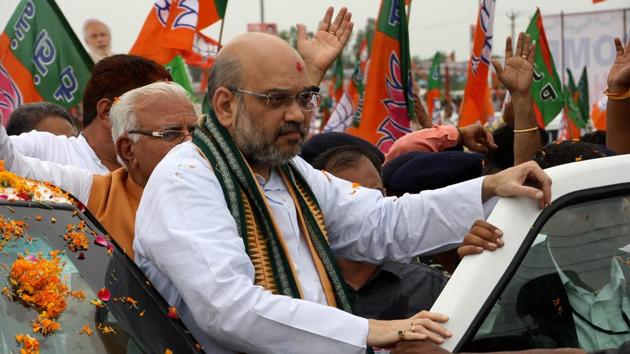 HT Correspondent
BJP president Amit Shah has set a target of 350-plus seats in the 2019 Lok Sabha polls, and a survey by a private TV channel appears to have justified the confidence of the ruling party.
Results of India Today's Mood of the Nation Survey, released on Thursday, showed that if the general elections are held now, the Narendra Modi-led BJP could win 249 seats.
The BJP won 360 seats in 2014, the first time in 30 years a single party crossed the halfway mark in the 543-member Lok Sabha. The BJP-led NDA's combined tally of 382 propelled Modi to power with a massive mandate that ended the Congress' 10-year reign.
On Thursday. Shah met several senior BJP leaders, including Union ministers, to chalk out the party's blueprint for the polls two years later.
Sources said the party was focusing on repeating the 100% cent success in Rajasthan and Gujarat where it won all the seats last time.
It was also looking at new areas to compensate for possible losses in Madhya Pradesh, Chhattisgarh, Uttar Pradesh and Jharkhand where, the party believed, it was at the peak of its popularity, the sources added.
The BJP is in power in 18 states, either on its own or in alliance with other parties.
The ruling party, which has emerged as the largest political outfit in the world, is eyeing states like West Bengal, Bihar and Odisha to improve its tally.
"All surveys," a BJP leader who attended the meeting said, "show the BJP winning more than 300 seats if elections were held today."
Shah told BJP leaders that Modi's popularity has grown over the last three years, but the party cannot afford any laxity.
He asked the party leaders to ensure anti-incumbency does not set in, and suggested that the organisation work closely with the local bodies to address grievance at the lowest level.