Entire families have been wiped out: Amritsar train accident eyewitness
Updated on Oct 20, 2018 11:12 AM IST
Last year, there was no Dussehra celebration at this venue as it is in a congested area. An eyewitness, said, "This venue is unsuitable to hold such a big crowd."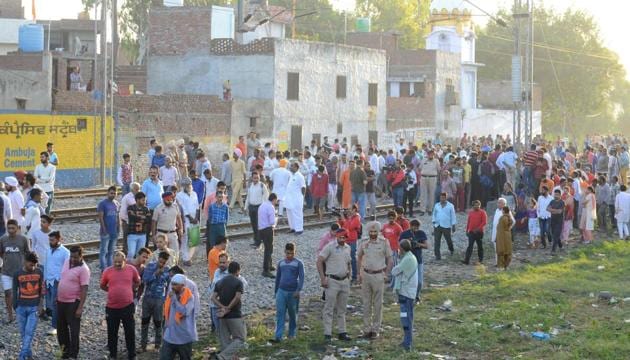 A passenger train that mowed down scores of people watching the Dussehra celebrations near Jaura Phatak (level crossing) was inaudible to the crowd as the firecrackers in the Ravana effigy were at a crescendo on Friday evening.
"We didn't hear the train coming. It had become dark and everyone was watching the effigy in flames when the train suddenly appeared," said Mintoo, a migrant labourer staying in the vicinity. Most of the victims are migrant labourers. "Families have been wiped out," he said.
Wails and cries filled the air as people frantically looked for their near and dear ones. Severed bodies, including those of children, were lying at the accident site hours after the incident with angry people not allowing authorities to remove them.
"It took just about 10-15 seconds for the train to pass and leave behind a heap of crushed and dismembered bodies," an eyewitness said.
The diesel multiple unit (DMU) train was coming from Hoshiarpur to Amritsar via Jalandhar as scheduled around 7pm. Eyewitnesses said normally the Ravana effigy is burnt earlier but this time it was delayed as the chief guest arrived late.
Padam Singh Dhingra, a businessman who stays nearby, said, "The Ravana effigy was scheduled to be burnt at 6.15pm but the chief guest, Navjot Kaur Sidhu, who is the wife of Amritsar (East) MLA Navjot Singh Sidhu, came late so the programme was running behind schedule. It was past 7pm when the effigy was burnt after her speech." There was no barricading near the railway tracks nor any alarm raised by the authorities or organisers, said other witnesses.
Last year, there was no Dussehra celebration at this venue as it is in a congested area. Vicky Thakur, another eyewitness, said, "This venue is unsuitable to hold such a big crowd."
"The administration and the Dussehra committee are at fault, they should have raised an alarm when the train was approaching, They should have made sure that the train halts or slows down," another witness told ANI.
Seconds before the DMU train passed by, another train from Amritsar to Howrah via Jalandhar crossed an adjoining track but did not cause any casualty. There are three tracks in the area. A boundary wall separates the dhobi ghat ground from the tracks.
(Follow updates of the Amritsar train accident here)
Personalise your news feed. Follow trending topics