Arrest of activists shows 'emergency-like' conditions prevailing in country: Yashwant Sinha
Updated on Aug 29, 2018 06:18 PM IST
The Pune police yesterday raided residences of several prominent activists in several states and arrested at least five of them for suspected Maoist links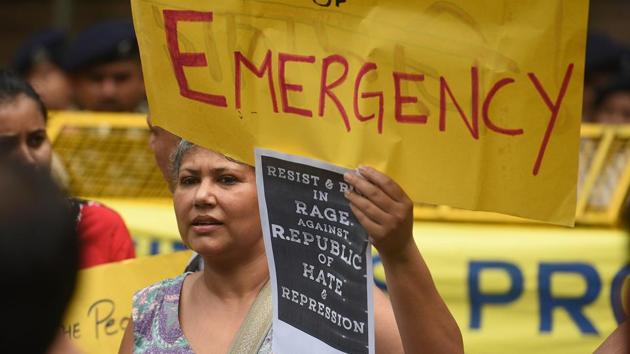 Bengaluru |
Press Trust of India
Former Union Finance Minister Yashwant Sinha today alleged "emergency-line" conditions are prevailing in the country under the present regime and the arrest of five activists on suspicion of Maoist links shows that any voice of dissent is not safe.
"What happened yesterday is the prime example of assault on freedom of speech and freedom of the press," he told reporters here.
The Pune police yesterday raided residences of several prominent activists in several states and arrested at least five of them for suspected Maoist links.
The raids were carried out as part of the probe into the violence between Dalits and upper caste Peshwas at Koregaon-Bhima village near Pune after the 'Elgar Parishad' event on December 31 last year.
Sinha, who had served as minister in the previous NDA regime but has turned into a bitter critic of the Narendra Modi government, alleged that there was a 'conspiracy' to silence criticism and suppress voices of dissent.
He said the arrests showed that people who voice dissent were not safe and there were many ways to suppress dissenting voices.
"The arrest of the five activists clearly shows the emergency like conditions prevailing in India under the present regime at the centre," he said.
In the past too, many 'unfortunate decisions' had been passed by the courts as well, the latest being preventing the media from publishing anything on dissenting stories, he said.
"There are many ways in which one can be shut up. I mentioned to you the defamation case. It can be filed against me, not by the government, but by a private party involved in this case and then I will be running to the courts defending myself," he said.
Searches were carried out at homes of activist and poet Varavara Rao in Hyderabad, civil liberties activist Gautam Navalakha in Delhi, activists Vernon Gonzalves and Arun Ferreira in Mumbai, human rights lawyer and trade union activist Sudha Bhardwaj in Faridabad and Chhattisgarh, among others.
Subsequently, Rao, Bhardwaj, Farreira, Gonzalves and Navalakha were arrested under the Indian Penal Code (IPC) Section 153(A), which relates to promoting enmity between different groups on grounds of religion, race, place or birth,residence, language and committing acts prejudicial to maintenance of harmony.
Personalise your news feed. Follow trending topics