As Kerala drowns, Northeast India struggles with dry monsoon
The northeastern states, including Meghalaya, Arunachal Pradesh, Assam and Manipur, usually record the highest rainfall in the country, but have received less than average rains this year. Consequentially, it has meant higher temperatures too.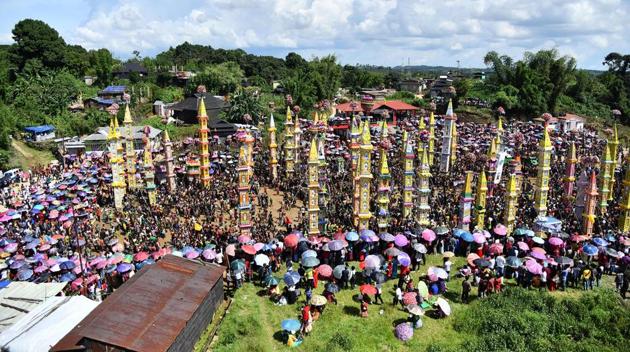 Updated on Aug 19, 2018 03:03 PM IST
Hindustan Times, Guwahati |
Sadiq Naqvi
While Kerala reels under a catastrophic flood after incessant rains, it has been a rather dry monsoon season so far in North East.
In Assam, where monsoons bring in massive floods, the figures by the Regional Meteorological Centre (RMC), Guwahati show a 30 per cent deficit so far this year. According to the data till August 18, the state has received 759.3mm rainfall against a normal of 1088.5mm.
The figure is even starker for Manipur which is reeling under a deficit rainfall of 66 per cent. Arunachal Pradesh has seen 46 per cent lesser rains this season while Meghalaya the abode of clouds is struggling with 43 per cent deficit rains so far. The figures for Nagaland, Tripura and Mizoram stand at 28 per cent, 23 per cent and 10 per cent deficit rainfall respectively.
East Khasi Hills district in Meghalaya, which has both Mawsynram, the wettest place on Earth and Sohra, the second wettest, has seen a 28 per cent deficit rainfall this season.
Meanwhile, lesser rains could have been a cause for worry for ecosystems like the Kaziranga National Park which rely on flooding to rejuvenate the water bodies and the grasslands.
"Enough water has entered the park. There is has been low level flooding and no reason to worry as of now," said NK Vasu, Principal Chief Conservator of Forests, Assam. Unlike last year when water from an overflowing Brahmaputra swamped the UNESCO world heritage site, causing multiple casualties of one horned rhinos and other species, there has been no casualty this year.
"The normal characteristic flow of moisture laden southerly/south easterly winds in the lower level of northeastern region during south west monsoon season was suppressed and weak due to the frequent formation of low pressure areas/depression over north west Bay of Bengal and their movement towards West in association with position of monsoon trough little to the south of its normal position," said a scientist at the RMC explaining reason for this deficit.
"As a large result of this large scale synoptic setup and dynamical structure of the atmosphere over this region there is a rainfall deficit till now," he said.
Deficient rainfall has sent the temperatures soaring in the region. North Lakhimpur in Upper Assam with 38.4 degree Celsius recorded the hottest temperature in the region on Saturday. It is 6.2 degree Celsius above normal.
Scientists at RMC blame lack of moisture laden winds and subsequent lesser cloud formation with significant reduction in low and middle level clouds as the reason for this radiation heating which is causing temperature to rise.
However, RMC claims the south west monsoon season which starts from June 1 and lasts till to September 30 is not over yet. "There was anyway a prediction of less than normal rainfall this year," the scientist at RMC said.
Close Story
Personalise your news feed. Follow trending topics