As Nitish, Sushil meet governor, Lalu says RJD too will stake claim to form Bihar govt
Updated on Jul 27, 2017 01:15 AM IST
Lalu Prasad says his party's claim to govern stands because it is the largest party in Bihar.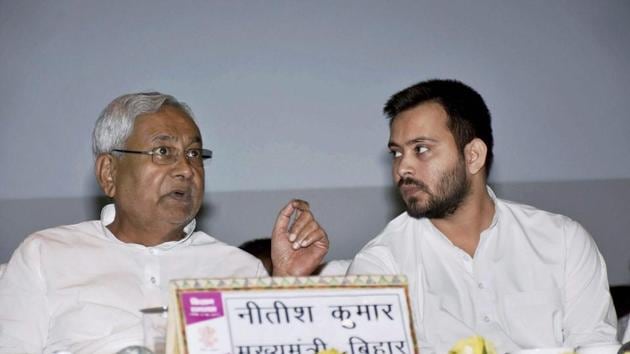 The RJD will stake claim to form the government in Bihar, the party's chief Lalu Prasad said late on Wednesday, hours after Nitish Kumar resigned as the chief minister.
Kumar, whose resignation was accepted by governor Keshari Nath Tripathi, is expected to stake claim to form the new government on Thursday. Sushil Kumar Modi is likely to return as the deputy chief minister.
"Nitish Kumar has underlined that he is an opportunist. Having done what he has, he cannot stake claim without a challenge. The Congress, CPI-ML and independents will back our claims to form the next government," Prasad told reporters late on Thursday while travelling to Ranchi to appear at a fodder scam court hearing.
"Struggle is my life. I have to be in Ranchi for the next three days. However, Tejashwi has been asked to present the claim to the governor in the forenoon tomorrow (Thursday)," he said.
Tejashwi Yadav, deputy chief minister in the outgoing cabinet and tainted by a corruption case, will meet Bihar governor Tripathi at 11am on Thursday and ask for a chance to prove majority.
Sources in the RJD camp said Prasad spoke to JD(U) leader Sharad Yadav, who is said to be unhappy with the party's decision to break the Grand Alliance. The RJD hopes those backing Yadav will extend their support, the sources said.
The RJD is banking on 16 Yadav and Muslim legislators in the JD(U) to stay away from the NDA grouping and pitch in for what Prasad claims is a secular alliance.
The RJD has 80 members in the Bihar assembly of 243 legislators, besides the Congress' 27, three from the CPI-ML and four independent members who voted in support of President Ram Nath Kovind, a former Bihar governor.
Kumar told journalists on Wednesday evening it had become "impossible" for him to run the government in an alliance with Lalu Prasad's party after it chose to remain silent over corruption charges leveled against the RJD chief's son, Tejashwi.
Personalise your news feed. Follow trending topics