Asaram Bapu convicted in 2013 disciple's rape case; sentence order on Jan 31
Jan 30, 2023 08:46 PM IST
According to the complaint lodged at Chandkheda police station in Ahmedabad, Asaram raped the elder sister at his Ahmedabad ashram, while his son Sai raped the younger sister in Surat
A sessions court in Gujarat's Gandhinagar on Monday convicted Asaram Bapu in connection to a rape case filed by a Surat-based woman, a former disciple of the preacher, in 2013.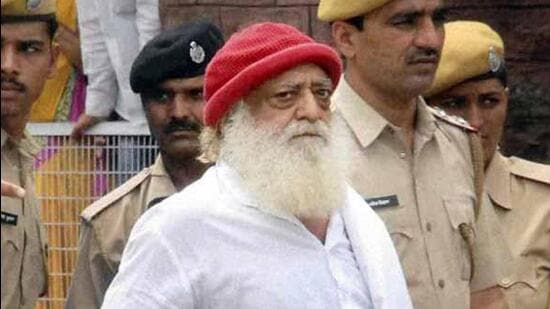 The court will pronounce the punishment in the case on Tuesday.
"The Gandhinagar sessions court today has convicted Asaram Bapu in a rape case. The complaint was filed in 2013 and the incident had taken place about 8-10 years before. The court will hear us tomorrow before pronouncing the quantum of judgement. We will try to get him maximum sentence," said senior advocate Nitin Gandhi appearing for the rape survivors.
A charge sheet in this regard was filed in July 2014.
Also Read: Chandigarh Police constable convicted in 2014 graft case
However, the six others accused in the case, including Asaram's wife, were acquitted by the court due to the lack of evidence.
In 2013, two sisters from Surat filed separate complaints against Asaram Bapu and his son Narayan Sai for incidents that took place between 2001 and 2006, accusing them of rape and illegal confinement, among others.
According to the complaint lodged at Chandkheda police station in Ahmedabad, Asaram raped the elder sister at his Ahmedabad ashram, while his son Sai raped the younger sister in Surat.
Asaram Bapu was charged under sections 342 (wrongful confinement), 354A (sexual harassment), 370(4) (trafficking), 376 (rape), 506 (criminal intimidation), and 120(B) (criminal conspiracy) of the Indian Penal Code (IPC).
Also Read: ED gets custody of Chhattisgarh CMO official Saumya Chaurasia for 4 more days
On April 26, 2019, Sai was convicted under the IPC 376 (rape), 377 (unnatural offences), 323 (assault), 506-2 (criminal intimidation), and 120-B (conspiracy) by a Surat court and sentenced to life imprisonment.
In 2018, Asaram was sentenced to life imprisonment by a special court in Rajasthan for raping a minor at his ashram in Jodhpur. He is currently lodged in jail in Jodhpur.