Chandigarh Police constable convicted in 2014 graft case
Jan 28, 2023 01:59 AM IST
Constable Dilbaj Singh was convicted under Sections 7 and 13 (1)(d) of the Prevention of Corruption Act by the court of special CBI judge Jagjit Singh; the quantum of sentence will be pronounced on January 31
A Central Bureau of Investigation (CBI) court has convicted a constable of the Chandigarh Police for accepting a ₹10,000 bribe from a parking contractor in 2014.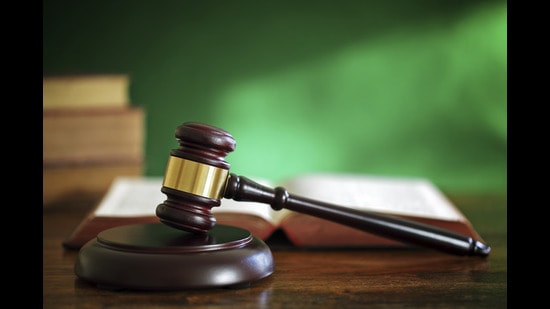 Constable Dilbaj Singh was convicted under Sections 7 and 13 (1)(d) of the Prevention of Corruption Act by the court of special CBI judge Jagjit Singh. The quantum of sentence will be pronounced on January 31.
Two more cops, including the then Sector-34 station house officer (SHO), Rajesh Shukla, and head constable Mukesh Kumar were also arrested in the matter. However, the proceedings against the SHO were abated in May 2022 after his death and the head constable was acquitted by the CBI court.
On September 2, 2014, a parking contractor in Sector 34, Lalit Joshi, had approached the CBI, alleging that the Sector-34 police were pressuring him to pay a monthly bribe to allow him to run the parking lot. He had claimed that they had demanded ₹15,000, with ₹5,000 each to be paid to the three accused.
The next day, while CBI sleuths kept a close watch from a distance, constable Dilbaj, who was accompanied by head constable Mukesh, took ₹10,000 from Joshi in the presence of a CBI sleuth dressed in civilian clothes. Soon, Shukla emerged from the Sector-34 police station and Dilbaj handed over the money to him.
The three cops then proceeded to the Burail police post where the CBI sleuths nabbed the SHO with the bribe money. When questioned, the constable claimed that he had accepted the money on the SHO's behalf.
As per the charge sheet submitted by CBI, the parking contractor had claimed that the SHO had accused him of consuming liquor in the parking lot and had even gotten him medically examined. It was after this that the SHO demanded the bribe, following which he complained to CBI.
A footage of CBI cops manhandling the SHO following his arrest had gone viral in 2014. Subsequently, the bureau had suspended inspector Ashok Kumar, who was seen hitting the cop at the Burail police post.
Colony Number 4 youth held guilty of raping 14-year-old
Chandigarh Over three years after a youth kidnapped and raped a 14-year-old girl in 2019, a fast-track court has held him guilty. The sentencing will take place on January 30.
The accused, Ashu, a resident of Colony Number 4, was booked under Sections 363-366 (kidnapping) and 376(3) (rape on a woman under 16 years of age) of the Indian Penal Code and Section 6 (aggravated penetrative sexual assault) of the Protection of Children from Sexual Offences Act in May 2019.
Ashu, who was 19 at the time of the incident, was accused of kidnapping the girl and taking her to his maternal grandparents' house in Fatehabad, Haryana, where he also raped her.