Assam: Blind beggar 'rapes' minor daughter for 4 months, police hunt on
Updated on Apr 23, 2018 08:24 PM IST
Neighbours thrashed the beggar after allegedly catching him in the act a few days ago. However, they did not hand the suspect over to the police, allowing him to escape.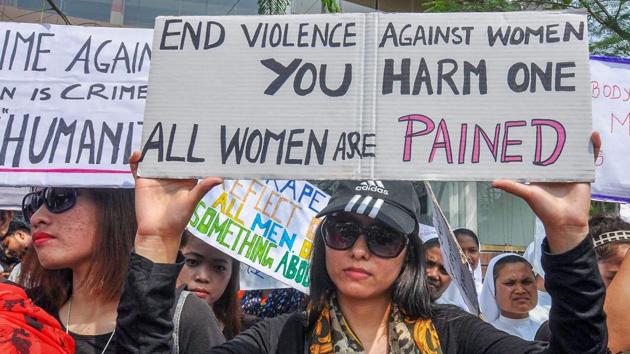 Police are hunting for a blind beggar accused of repeatedly raping his 10-year-old daughter over a period of four months in Assam's Lakhimpur.
The beggar began targeting the minor after his wife left him in November, Lakhimpur police superintendent Sudhakar Singh said on Monday. "Two days ago, some neighbours allegedly caught the accused in the act and thrashed him. However, instead of handing him over to the police, they shot a video of the accused being beaten and uploaded it on the social media," he added.
The girl was rescued along with her younger brother after a local women's association brought the video to the police's notice on Sunday night. Efforts are on to apprehend the accused, who reportedly fled town after the incident.
Police have placed the minor and her sibling in the custody of their relatives. A medical test will be conducted on Monday to confirm rape.
"This incident occurred in the child's home, a place where she should feel safe. Moreover, the accused is her father. This goes to show the extent of moral degradation in our society," said Singh.
In another incident, police arrested a middle-aged man for allegedly attempting to sodomise a six-year-old boy at Tipong in Tinsukia district on Sunday evening. Superintendent of police (Tinsukia district) Mugdhajyoti Dev Mahanta identified the accused as 40-year-old Shekhar Ali. Further details are awaited.
A security guard employed at an apartment complex in Guwahati was arrested for sodomising a 10-year-old boy on April 18.
These are only the latest in a series of sexual crimes against minors to emerge from Assam over the last few months, despite statewide protests and heightened security measures such as the launch of a dedicated police helpline.
Last month, an 11-year-old girl was raped and burnt alive by three people—two minors and a teenager—in Nagaon district. The incident, which led to widespread agitations, drew comparisons with more sensational cases of the kind at Unnao and Kathua.
Personalise your news feed. Follow trending topics