Heartbreak for Anantnag family as only son, a talented footballer, joins LeT
Nov 14, 2017 12:14 PM IST
Majid, a second-year under-graduate commerce student at the government degree college Anantnag, is the LeT's latest recruit in the Valley.
In the house of 20-year-old Majid Khan, a bright student and a promising footballer who joined the Lashkar-e-Taiba (LeT) last week, it's heartbreak.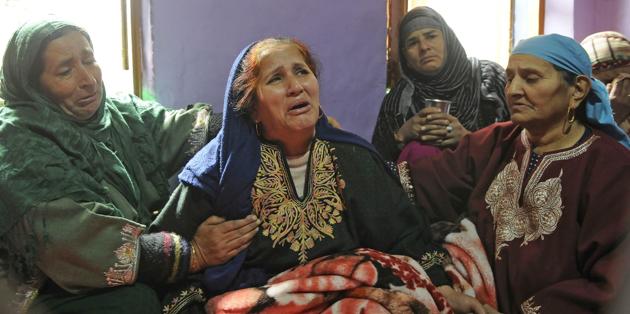 His mother Ayesha Khan weeps inconsolably and beats her chest as she implores her son to return.
At least ten women in the family's sitting room hold her back as she shrieks and cries.
"I want my only son back.... Majid, come back. Come back and kill your father and me, and then go back again," Ayesha cries hysterically.
Majid, a second-year under-graduate commerce student at the government degree college Anantnag, is the LeT's latest recruit in the Valley. He is a renowned footballer of the town and had passed class 10 and 12 board examinations with high scores.
Male relatives gathered in an adjacent room of the house said that Majid's father Irshad Ahmed Khan – a government employee who suffers from a weak heart and was resting after having suffered a mild cardiac attack two days back – has appealed to all "parties concerned to please give back my only son". Khan has gone into seclusion since the news broke.
"We want him back desperately," said cousin of Majid. The cousin who is also a college student broke down saying he believes Majid was "brainwashed" into joining the militant ranks.
Such a plea from a family to a son to shun the path of violence is rare in Kashmir where militants are usually revered and supported.
Majid is the only son of the Khans. His two elder sisters are married. The two sisters, along with their husbands and children, moved into the family home in Anantnag town soon after they got to know that their brother reportedly joined the militants Thursday night.
"Our parents kept trying his phone till late night on Thursday. It was switched off. Then we got to know that a photo has come on social media saying Majid has joined militancy," said one of his sisters.
She continued: "Both in class 10 and 12, he was among the toppers of district. In class 12, he was the topper of the commerce stream in the government boys' high secondary school here."
The picture which the sister mentions is one of Majid brandishing an AK 47 rifle – a photo that went viral and evoked strong reactions from his friends on Facebook. His wall is filled with posts like: "Come back bhaai…" and "Your parents need you…"
Many believe the death of his close friend Yawar Nisar was a turning point in Majid's life. Nisar had joined the militants in July this year and was killed in a gun battle with security forces barely a month later. Police had described Nisar as an over-ground worker and stone-pelter before joining active militancy.
"Yes, Yawar and Majid were friends. Yawar's killing had changed Majid and at the funeral he has been photographed crying inconsolably and kissing the body," said a friend of Majid, who did not want to be named.
Family and friends say Majid was also a worker at a local NGO which provides emergency medical care in the region.
Before he picked up a gun, Majid had made a name for himself as the goalkeeper of an Anantnag-based cricket and football club which he joined when he was in the ninth standard.
"Everyone knows Majid. He was one of the best goalkeepers Anantnag district has produced," says an official of the club. He has known Majid for six years now.
The official plays a video on his smartphone in which Majid is a goalkeeper during a penalty shootout. He added: "In this match, about a month earlier, Majid had saved three goals."
In the recent past, security forces in Kashmir have reiterated time and again that the door for local militants to surrender is open. Majid's life in on the line, but there is a sliver of hope.
Senior superintendent of police, Anantnag, Altaf Ahmed Khan said the police could facilitate his return.
"I have spoken to the family. They were weeping bitterly, seeking a return of the boy. I have told them to try and establish a contact with him and we will facilitate his return. It's our responsibility to help this small boy return," he told HT.
According to police records at least 170 militants (including foreigners and locals) have been killed this year in Kashmir. A report in a local newspaper on Monday said that at least 41 local youth have joined militant outfits from July to September.