6 killed in bombing, shooting as Bengal holds panchayat polls
In Bagda of North 24 Parganas district, nine men were caught by villagers stamping ballot papers in a booth, In Bodo Khotimali in Cooch Behar district, a booth reported 100% polling at 8 am.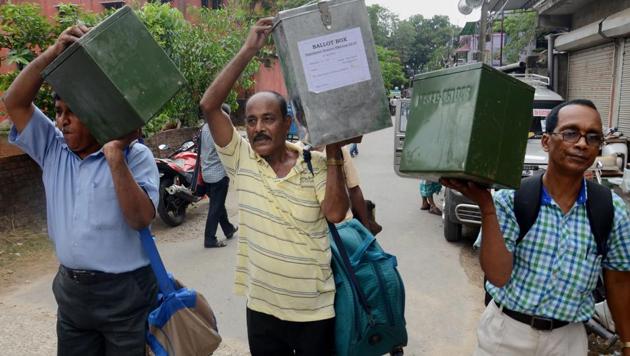 Updated on May 14, 2018 12:54 PM IST
Six people were killed in violence related to the West Bengal panchayat election that is being held on Monday after weeks of uncertainty even as clashes and booth capturing were reported in several parts of the state.
A youth, Taibur Gayen, was killed and two others injured when crude bombs were hurled at them allegedly by ruling party supporters at Amdanga in North 24 Parganas district. CPI(M) MLA Tanmay Bhttacharya claimed Gayen was their party supporter.
In Kultali of South 24 Parganas, a Trinamool Congress supporter Ariful Gazi was shot dead when he was going to a booth. The allegation was against SUCI supporters.
Sanjit Pramanik, 27, succumbed to bullet injuries on his chest and abdomen in Santipur of Nadia district.
In Beldanga of Murshidabad, Tapan Mondal, a BJP worker was killed after he was hit by bombs. He was going to a booth to cast his vote.
Debu Das and his wife Uma Das in Budhakhali gram panchayat in Namkhana of South 24 Parganas district were burnt to death allegedly by Trinamool supporters.
People were seen standing in long queues outside polling stations right from 6 am, many of them women. The elections are being conducted using ballot papers.
Chief minister Mamata Banerjee urged people and political parties not to pay heed to canards and "fake videos", and participate peacefully in the panchayat elections.
As many as 1,54,500 policemen, including Bengal police, civic volunteers and cops from the Sikkim, Odisha, Andhra Pradesh and Telangana have been deployed to ensure peaceful voting. Police have sealed the state's border with Jharkhand.
Violence was reported at several places. In Bagda of North 24 Parganas district, nine goons were caught by villagers stamping ballot papers in a booth and beaten up, before being handed over to police and sent to hospital.
Villagers alleged that when confronted, the criminals tried to flee by hurling crude bombs.
Bengal food minister Jyotipriyo Mullick alleged that BJP had brought hundreds of people from Bangladesh to unleash violence, adding that police were outnumbered.
"The incidents of violence are largely reported from south Bengal. North Bengal is relatively peaceful," said BJP Bengal president Dilip Ghosh.
In a booth in Bodo Khotimali of Dinhata in Cooch Behar district, there were reports that 100% polling was completed by 8 am.
In a booth in Okhabari in Munsirhat of Cooch Behar district, the presiding officer left the polling premises by 10am as all votes were polled by 9:30 am amid violence. But they were sent back to the booth by the police.
TV channels aired footage showing north Bengal development minister Rabindranath Ghosh slapping a BJP polling agent in a booth in Natabari of the district.
Ghosh, however, said he did not assault anybody. "The youth, a BJP agent, was trying to run away with the ballot box. I intervened but I did not assault anybody," he said.
In Suktabari area of Cooch Behar, a woman voter was rushed to a hospital after she was injured in a clash between supporters of Trinamool and an independent candidate.
In most areas, disgruntled local Trinamool Congress leaders, who were denied tickets for the elections, are contesting as independent candidates.
"In Jalpaiguri, Cooch Behar and North Dinajpur districts, ruling party supporters are jamming booths. We are trying to contact senior officers such as police superintendent, district magistrate, but they are not picking up phones," alleged Dipan Pramanik, BJP president of Jalpaiguri district.
The state election commission (SEC) sought a report from the district magistrate of Cooch Behar.
Storm and rains had lashed north Bengal districts of Malda, North Dinajpur, Alipurduar and Jalpaiguri on Sunday.
In some areas such as Islampur of North 24 Parganas, power was disrupted and votes were conducted in candle lights.
In Chapatala of Deganga in the same district, a Congress candidate sustained injuries. In a booth in Haroa, youths were seen taking control of the booth.
TV channels aired footage of clashes between two groups of people inside a booth in Uttar Gazipur village in South 24 Parganas. Injured youths were seen writhing in pain inside the booth. The lone policeman guarding the booth appeared helpless.
In a pond close to a booth in Rampur Alokmala Primary School in the district, ballot papers were seen floating in the water. Police did not find voters or representatives of political parties inside the booth.
A large police contingent fired tear gas shells to disperse trouble mongers in Bhangar. A media vehicle was torched and a camera broken. Journalists were not allowed to enter the area.
Violence was reported from Keshpur of West Midnapore district too. In Bikalchak of Keshpur in West Midnapore district, a teenage girl was hit by an arrow and had to be taken to hospital.
A man was seen pouring water in a ballot box in a booth of Patharghata in Rajarhat.
In Jalpaiguri, ballot boxes containing ballot papers were set on fire. Poll officials said voting has been stopped in the booth in Shikarpur.
In Pashkura of East Midnapore, a masked youth holding a pistol in the air was seen moving around inside a booth even as an armed policeman stayed put.
Supporters of Congress and ruling Trinamool Congress clashed in Ratua of Malda. Congress supporters alleged that Trinamool supporters captured booths.
In Sujapur of Malda, a clash broke out between the supporters of Congress and Trinamool after the husband of a Congress candidate was allegedly attacked. He has been admitted to Malda Medical College and Hospital.
In Santipur of Nadia, villagers set afire 11 motorcycles, alleging that youths came on them to stir violence.
"We have not witnessed unfair practices in Bengal on such a scale since 1972," said Biswanath Chakraborty, professor of political science of Rabindra Bharati University.
CPI(M) MLA Tanmay Bhattacharya rued that the state election commissioner was aware that violence will take place, but "did not insist on deployment of central forces. Instead, he told the Calcutta high court that the state police will be able to maintain law and order".
.
Close Story
Personalise your news feed. Follow trending topics