Bengaluru: How India's 'Garden City' became garbage city
Jan 25, 2017 12:16 PM IST
The stench of rubbish hanging over swathes of Bengaluru is so powerful it rouses residents in the middle of the night, the fetid result of a trash crisis that threatens its reputation as one of India's nicest places to live.
The stench of rubbish hanging over swathes of Bengaluru is so powerful it rouses residents in the middle of the night, the fetid result of a trash crisis that threatens its reputation as one of India's nicest places to live.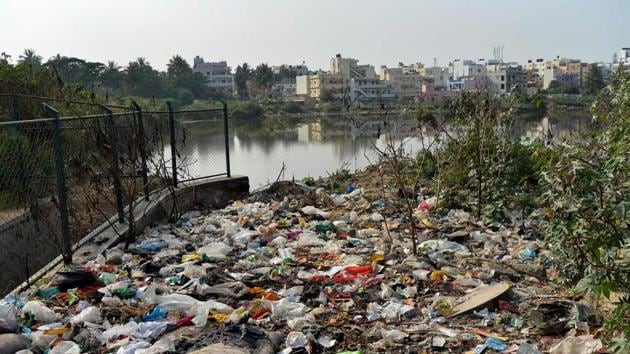 Hailed first as the country's Garden City and then its Silicon Valley, drawing in multinational IT firms and their monied executives, today Bengaluru is paying a heavy price for its success -- it's a city overflowing with garbage, its infrastructure and waste collection services unable to keep up with decades of unchecked growth.
"You will wake from your dreams because of the smell," says local Kamesh Rastogi.
"You have to close the doors, but even then there is no respite," he adds.
The capital of Karnataka state, Bengaluru was once a favourite retreat for families seeking respite from the heat of the surrounding southern farming plains and particularly popular with people in retirement.
Located on a plateau and blessed with a relatively cool climate, the city is dotted with public parks and gardens as well as a network of lakes.
But since marketing itself as India's tech hub, drawing in a raft of multinationals, Bengaluru's population has soared from three million at the start of the 1990s to in excess of eight million.
The surge has placed huge pressure on its municipality, which stands accused of inadequate urban planning and, in particular, of failing to cope with the accompanying rise in waste volumes.
When Rastogi, who works for the tech firm Oracle, bought an apartment a decade ago in a leafy suburb called HSR Layout, he thought he was moving into one of Bengaluru's most pristine neighbourhoods.
But as part of efforts to cope with the 3,500 tonnes of rubbish that are generated in the city every day, the municipality reopened a mothballed waste treatment plant near his apartment in 2013.
At the time of construction, the plant was some distance beyond Bengaluru's outskirts but it has since been encircled by the urban sprawl of the last quarter of a century.
Furious residents, many of them executives for international tech companies, set up a neighbourhood association to campaign for the plant's closure and relocation.
Contacted by AFP, management at the plant said an air filter was being installed to clean up emissions but residents are unconvinced.
"I feel I have to be reincarnated to see these changes happening," one of them quipped.
'Garbage discipline'
Anger is growing throughout the city, with newspapers carrying stories of litter louts being beaten up on the streets by furious residents.
And rather than its old nickname as India's Garden City, Bengaluru is now simply dubbed garbage city.
The municipality's waste management team turned down several requests to speak to AFP.
But around a hundred CCTV cameras have been installed to catch fly tippers in two districts that have become regular dumping grounds.
The municipality has even installed GPS devices in dump trucks to ensure crews don't take short cuts and is reportedly considering hiring ex-servicemen with the authority to fine offenders to enforce "garbage discipline".
Campaigners say such measures are little more than sticking plasters and the crisis can only be resolved once the municipality increases its capacity to treat rubbish.
"It's mostly what we call trying to douse the fire when it happens, instead of a systemic approach to resolve these issues," said Venkatesh Kannaiah, an activist with the Janaagraha civic organisation.
Also read | Why the outwardly beautiful Chandigarh is actually among India's dirtiest
As awareness grows about the environmental impact of India's increasingly consumerist society, more residents are trying to recycle or setting up their own compost heaps.
"Bengaluru used to be one of the most beautiful cities in India, and look at it now," said Myriam Shankar, a member of the Solid Waste Management Round Table pressure group.
Shankar, an Italian-German, first arrived in India in 2004. Now married to a lawyer, she regards Bengaluru as home.
She and her fellow activists try to raise awareness at schools and in companies about the advantages of recycling.
Shankar believes things have improved inside gated communities, where residents are beginning to come up with their own solutions, but it's a different situation beyond the city's compounds.
"Outside, you have a very diverse society and to get all these people singing to the same tune, it is difficult. You have things like corruption, literacy or illiteracy... It takes time."