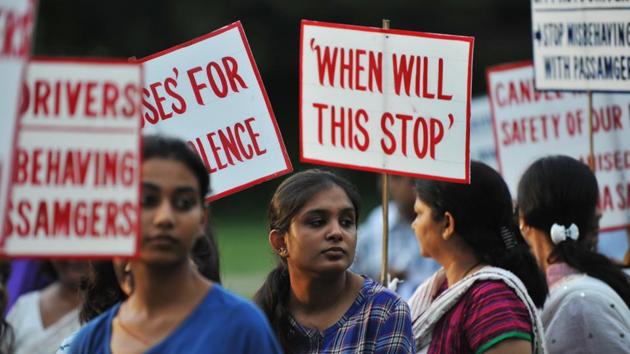 Bhopal gang rape case: MP one of India's most unsafe, dangerous places for women
Data submitted in the Madhya Pradesh assembly in February this year shows 11 women were raped every day and six gang-raped almost every week.
UPDATED ON NOV 03, 2017 05:39 PM IST
The brutal gang rape of a 19-year-old college student in the heart of Madhya Pradesh's capital Bhopal on Tuesday has once again put the spotlight on the rising cases of sexual violence against women in the state much to the embarrassment of the Bharatiya Janata Party government.
Chief minister Shivraj Singh Chouhan recently claimed that Madhya Pradesh was way ahead of the United States in terms of women's empowerment after he returned from his visit to the country.
Figures, however, show Madhya Pradesh continues to be one of the most unsafe and dangerous places for women in the country as one woman is raped in the central state almost every two hours.
Data submitted in the state legislative assembly in February this year shows 11 women were raped every day and six gang-raped almost every week in Madhya Pradesh between February 1, 2016, and mid-February 2017.
As many as 4279 women were raped and 248 gang-raped in Madhya Pradesh. And of the 4279 rape victims, over half or 2260 were minors.
Read more: CM assures trial in fast-track court, action against police officers
The National Crime Records Bureau (NCRB) data released for 2015 shows Madhya Pradesh reported 4391 - the highest number of rape cases in the country in that year. In 2014, the state reported 5076 rape cases, accounting for 14% of the total rape cases reported from across the country.
Bhopal-based NGO Sangini Gender Resource Centre said in its 2013 study that most of the girls in the state capital have been the victims of sexual harassment of one or the other kind such as stalking (23%), unwarranted touching in public places (6%), obscene talk (11%), obscene talk on mobile phones (14%), attempt to rape (7%), being cheated after lured into love (3%) and obscene gestures (1%).
Women's rights activists are worried over the prevalence of sexual violence against women in the state. Upasana Behera said such horrific incidents create fear in the minds of women and affect their sense of freedom.
"Many parents and girls will be apprehensive about late tuitions. The chief minister recently said that MP was better in women's empowerment compared to the US. How can women feel empowered when they can't even move in the heart of Bhopal without fear?" she asked.
Behera also rubbished the argument that the figures were higher in Madhya Pradesh as more cases were registered in the state.
"Everybody knows this that reported rapes are just tip of the iceberg. Very large number of rapes are not reported at all due to social taboo," she said.
The state women and child development minister Archana Chitnis admitted such incidents create fear among women and the government is concerned about the rising cases of sexual violence against women.
"We are already pushing for capital punishment for people convicted of raping minors below 12 years. The police should also deal with such incidents with more sensitivity and more promptly," she said.
Close