BHU girls speak up, say scars on minds deeper than physical injuries
Updated on Sep 27, 2017 07:08 AM IST
BHU students say what is more painful is that action is yet to be taken against the accused involved in sexual harassment of the student.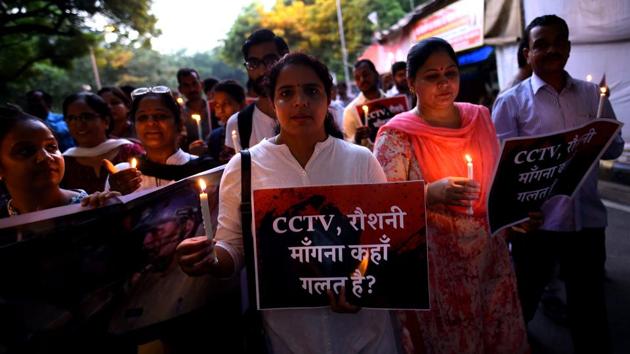 Police action on BHU students on Saturday night left deeper scars on their minds than their bodies, a girl student said on Tuesday while recounting the horror that has left her shocked.
"The violence has pained us and its scars will stay on our minds forever. What is more painful is that action is yet to be taken against the accused involved in sexual harassment of the BHU student," the girl told HT on condition of anonymity.
"Shouldn't action be taken against those who didn't take the victim's complaint seriously?" she asked.
"Neither did we commit any offence by raising our voice against the inaction of the authorities nor did we misbehave with anyone. We didn't disrupt peace. We were sitting on a dharna demanding action against the accused," she said.
She said the girl, who was molested on Thursday, first complained to a security guard who was on duty barely a few metres away but did nothing to stop it.
"She then reported the matter to the proctor, Dr ON Singh, who too did not take her complaint seriously," she claimed.
"When she narrated the incident to hostel inmates, they got enraged and decided to stage a dharna at the campus' main gate. Our only demand was the V-C come to the spot and listen to our problems," she recalled.
"When the V-C ignored our demands, we continued the protest on Saturday. Police were called on the campus during the night and girls were cane-charged. About 10-15 girls sustained injuries. The police even cane-charged girls near Mahila Mahavidyalaya gate," she said.
"The girls cried in anger and pain. Only a few of them went to the hospital for treatment while others remained confined to their hostel rooms as it was quite late and the situation was tense on the campus. The next morning, we received verbal orders to vacate the hostel," she added.
She said the girls had no option but to return home while the accused remain unidentified.
BHU VC Prof GC Tripathi said the university administration had lodged a complaint on Friday against two unidentified men in connection with the harassment case.