Bihar minister quits after husband is linked to Muzaffarpur shelter home sex scandal
Chief Minister Nitish Kumar had on Monday defended the minister.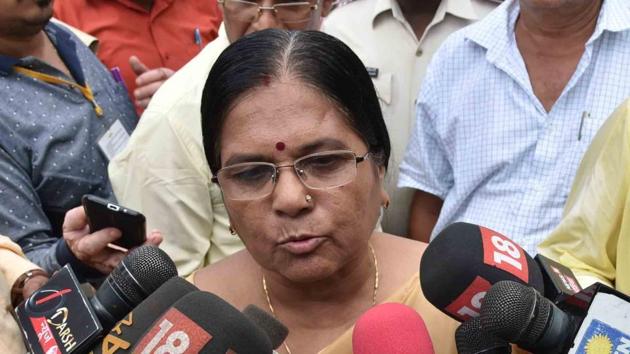 Updated on Aug 09, 2018 08:49 AM IST
Bihar social welfare minister Kumari Manju Verma resigned on Wednesday amid allegations that her husband had links with the main suspect in a scandal linked to the sexual abuse of inmates of a government-funded shelter home in Muzaffarpur.
Verma's resignation letter was immediately faxed to governor Satya Pal Malik, who is in Delhi, for acceptance, officials aware of the development said on condition of anonymity.
The resignation came hours after Brajesh Thakur, the main suspect in the scandal, told reporters outside a Muzaffarpur court that he had "no special connections" with the minister's husband, Chandeshwar, but used to speak to him "over political and other issues."
Verma had been under pressure to step down after her ministry was accused of inaction in the case. Former Muzaffarpur child protection officer Ravi Kumar Roshan's wife, Shibha Kumari Singh, had last week claimed Verma's husband was a regular visitor to the shelter home. She alleged that her "innocent" husband had been made a scapegoat and arrested. The minister and her husband had denied the allegations as baseless.
Opposition parties had demanded Verma's removal even as chief minister Nitish Kumar and his deputy, Sushil Kumar Modi, defended the Janata Dal (United) legislator from Cheria-Bariarpur.
Also watch
Kumar had on Monday promised to remove Verma if anything was found against her in the investigation and warned opposition parties against politicising the "sensitive issue".
The Supreme Court had rapped the Bihar government on Tuesday and questioned why there had been no inspections of shelter homes earlier to prevent sexual abuse.
Over 30 girls rescued from the Muzaffarpur shelter home were found to have been sexually abused and tortured for several months.
The Congress said Verma should have resigned earlier to ensure a fair probe. "I had said that the chief minister was trying to defend the indefensible. When the entire social welfare department is under the scanner, how can its head remain untouched? It is late but better it has happened," said Bihar Congress president Kaukab Quadri.
Congress MLC Premchandra Mishra said that when the chief minister "was ashamed of the heinous crime against innocent girls and accepted lapses, it should have been the natural corollary for the minister to resign to ensure a fair probe".
Opposition Rashtriya Janata Dal leader Tejaswhi Prasad Yadav sought Verma's resignation as her ministry was in charge of overseeing the shelter home. "Removing small fries will not serve the purpose. The accountability should be fixed at the top," he had said.
Topics
Close Story
Personalise your news feed. Follow trending topics