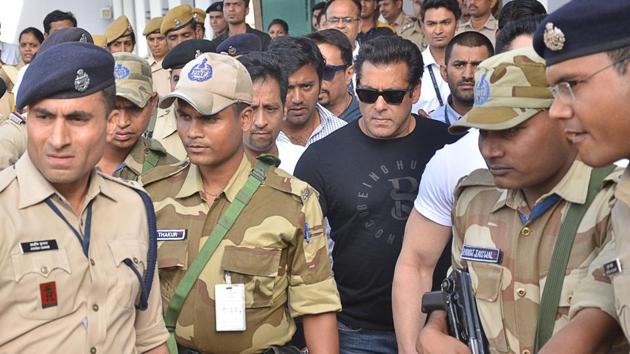 Salman, Saif, Sonali, Tabu in Jodhpur today for Black buck poaching verdict
Salman is accused of killing two blackbucks, hunting of which is prohibited under the Wildlife Protection Act, at Kankani village in Jodhpur during the shooting of film Hum Saath Saath Hain
UPDATED ON APR 05, 2018 12:09 PM IST
Bollywood star Salman Khan and other actors arrived on Wednesday in Jodhpur where a court will pronounce its verdict in a 1998 poaching case in which he is the prime accused.
Final arguments of the case were completed in the trial court on March 28, after which Chief Judicial Magistrate Dev Kumar Khatri had reserved the judgment for Thursday.
Salman is accused of killing two blackbucks, hunting of which is prohibited under the Wildlife Protection Act, at Kankani village in Jodhpur during the shooting of film Hum Saath Saath Hain. Actors Saif Ali Khan, Sonali Bendre, Tabu and Neelam and a local resident, Dushyant Singh, are among the accused in the case.
Read: Salman Khan blackbuck case, other court cases: 10 things to know
Salman Khan, 52, arrived from Mumbai in a chartered flight. He was earlier in Abu Dhabi for the shooting for "Race 3". Bendre, Saif Ali Khan, Tabu and Neelam also reached Jodhpur from Mumbai.
Later, a video went viral in which Saif, after arriving here, can be heard using rough language and asking his driver to roll up the car's window-panes and reverse as a crowd gathers around his vehicle.
Salman is facing charges under Section 51 of the Wildlife (Protection) Act and the other actors have been charged under Section 51 read with Section 149 (unlawful assembly) of the Indian Penal Code. Maximum punishment under Section 51 is six years.
"All of them were in a Gypsy car that night, with Salman Khan in the driving seat. He, on spotting a herd of black bucks, shot at and killed two of them," Public Prosecutor Bhawani Singh Bhati had said.
In pics:Salman Khan, Saif Ali Khan and others reach Jodhpur to hear verdict in black buck case
"But on being spotted and chased, they fled from the spot leaving the dead animals there," he said, adding that there was adequate evidence against them.
Denying these allegations, Salman Khan's counsel H M Saraswat said there were several loopholes in the prosecution's story and it had failed to prove its case beyond any doubt.
"Prosecution has failed to prove the allegations. It engaged in tampering and fabricating evidence and documents as well as roping in fake witnesses to prove its case," he said.
"It even failed to prove that the black bucks were killed by gunshots. Hence, such investigation cannot be trusted," Saraswat said.
Read: Salman Khan convicted in blackbuck poaching case by Jodhpur court, Saif Ali Khan and other actors acquitted
The case also involved two more accused, Dushyant Singh, who was allegedly accompanying the actors when the poaching took place, and Dinesh Gawre, said to be Salman Khan's assistant.
However, prosecutor Bhati says that Gawre never appeared in court and was made to disappear by Salman Khan. Had he been around, there could have been more information available in the case, he said.
(With agency inputs)
Close