Books On The Delhi Metro: A new initiative to 'bring back the fun of reading a book'
Updated on Jun 14, 2017 11:15 AM IST
"Take it, read it, tweet it & once you're done, put it back for others to enjoy!"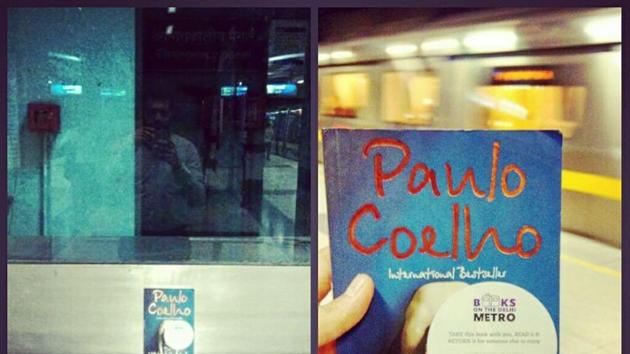 A Delhi-based couple has come up with a unique initiative to share the joys of reading: a treasure hunt for book lovers on the metro.
Writer Shruti Sharma and her civil engineer husband, Tarun Chauhan, have launched their non-profit organisation called Books on the Delhi Metro, with the aim to 'bring back the fun of reading a book'.
Sharma says she was inspired by Emma Watson, the star of Harry Potter, who left books on the London Underground earlier this year as part of her collaboration with a worldwide initiative, Books on the Underground.
"My motivation was Emma Watson. The idea struck a chord with me, because I am a book lover and book devour-er. I contacted Hollie Fraser (Founder of the Books on the Underground), and she was happy to have a branch in Delhi, and that's how, we are here."
The couple hides the books on Delhi metro stations with a clue on their social media pages – Facebook, Twitter and Instagram – to make the hunt more exciting for commuters. People are asked to "Take it, read it, tweet it & once you're done, put it back for others to enjoy! ".
Within a month, their initiative has earned them plenty of admirers both in Delhi and other cities.
"Do I have option to just love this page instead of a like. Sending a big heart n lots of love to you guys for this wonderful initiative... keep spreading love," says one Facebook user.
Another user comments, "This is simply great. A treasure hunt for book lovers and an opportunity for others to get into this amazing world of books!"
Thanking the Delhiites for their overwhelming response, Sharma says, "My heartfelt thanks to the people of Delhi. I knew for a fact, that there is no dearth of bibliophiles here, and they have proved it."
She assures that plan to roll out the project in other Indian cities is in the pipeline.
"I have already started getting queries from people in Bangalore, Mumbai and Jaipur. We can do it in every city. And we must do it."
Personalise your news feed. Follow trending topics