Budget session: PM Modi seeks serious, engaging discussions
Updated on Feb 01, 2022 01:31 AM IST
Speaking outside Parliament, the Prime Minister said the Budget Session is an opportunity for lawmakers and political parties to take up discussions on vital issues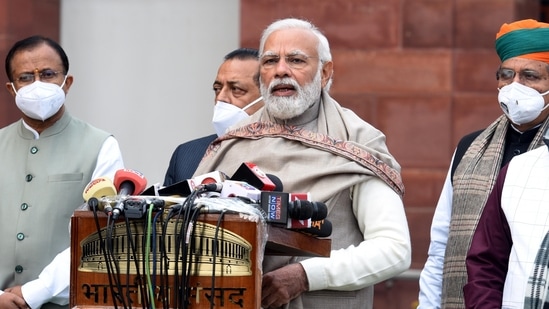 , Hindustan Times, New Delhi
HTC & Agencies
Despite electioneering in five states, lawmakers should be able to participate in serious and engaging discussions to accelerate the country's progress and to help achieve newer economic goals, Prime Minister Narendra Modi said on the first day of Parliament's budget session on Monday.
Speaking outside Parliament, Modi said the session was an opportunity for lawmakers and political parties to take up discussions on vital issues.
"Budget session commences today. I welcome all MPs to this session. In today's global situation, there are a lot of opportunities for India. This session instills confidence in the world regarding the country's economic progress, vaccination programme, Made in India vaccines," he said.
"In this session too, discussions, issues of discussions and open-minded debates can become an important opportunity for global impact. I hope that all MPs, political parties will have quality discussions with an open mind and help take the country on the path to development swiftly," the Prime Minister said.
The session comes ahead of assembly polls from February 10 to March 7 in Uttar Pradesh, Punjab, Manipur, Uttarakhand and Goa. The counting of votes would take place on March 10.
"It is true that because of frequent elections, sessions and discussions are affected, but I urge all MPs that elections have their own place and are an ongoing process but in Parliament, this budget session sets the tone for the entire year and, therefore, it is very important," he said.
Several working hours of both the Houses were lost amid commotion by the opposition in the winter and monsoon sessions last year. Lawmakers should participate in the budget session proceedings with full commitment, Modi said.
"As much as we make this budget session more fruitful with full commitment, the coming year will also become a huge opportunity to take us to new economic heights," the Prime Minister said.
The session of Parliament is likely to be stormy with opposition parties all geared up to raise farmers' issues and the border row with China.
The opposition is also preparing to unitedly take on the government on the Pegasus snooping row after the New York Times claimed that India purchased the snooping spyware as part of a defence deal with Israel in 2017.
Personalise your news feed. Follow trending topics