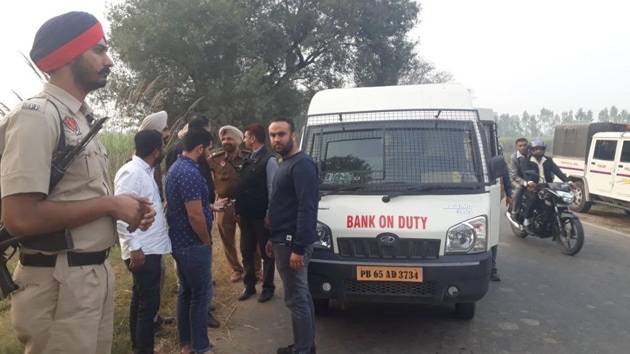 Cash van driver held for planning heist
In the robbery attempt, a man had entered the cash van at a road near Pul Prahladpur police station on Friday morning and tried to flee with a bag containing
₹
14 lakh in cash.
UPDATED ON MAY 14, 2019 07:50 AM IST
Three days after a man was shot dead when he had allegedly attempted to rob a cash van in south Delhi's Pul Prahladpur, police on Monday said they
have arrested the driver of the vehicle for allegedly planning the heist.
In the robbery attempt, a man had entered the cash van at a road near Pul Prahladpur police station on Friday morning and tried to flee with a bag containing ₹14 lakh in cash. It was foiled by an "accidental" shot fired by the van's guard, while he was trying to restrain the suspect.
Police said that they had found a mobile phone on Nandu's body. The owner of the SIM card in that phone turned out to be a relative of the cash van driver. That spilled the beans on the driver's alleged involvement, said a police officer.
Chinmoy Biswal, deputy commissioner of police (south-east), identified the arrested driver as Lokesh, who belongs to Baghpat in Uttar Pradesh. His arrest also helped identify the dead man as 25-year-old Nandu.
Lokesh, Nandu and two other men had allegedly planned the heist days in advance. The idea was to target the cash van when it would be stuck in traffic. "Lokesh, had left the back door of the cash van unlocked to allow the heist," said the DCP.
On Friday morning, Nandu and his two associates allegedly chased the cash van from Badarpur, where it had collected the previous day's collections.
Near the Pul Prahladpur police station, Nandu allegedly entered the vehicle with chilli powder in hand. His two armed associates waited nearby.
But the attempt to snatch the bag was met with resistance from the cashier of the cash van. The guard, Arun Shukla, joined him to take on the robber when his double-barrel gun accidentally went off, said the police. "Since the gunshot killed Nandu, his associates panicked and fled the spot," said the investigator.
Close