CBSE Class 10: NCR towns shine as Delhi's pass percentage rises
In the national capital, private schools recorded a success rate of 93.18 %, 21.21 percentage points higher than government schools.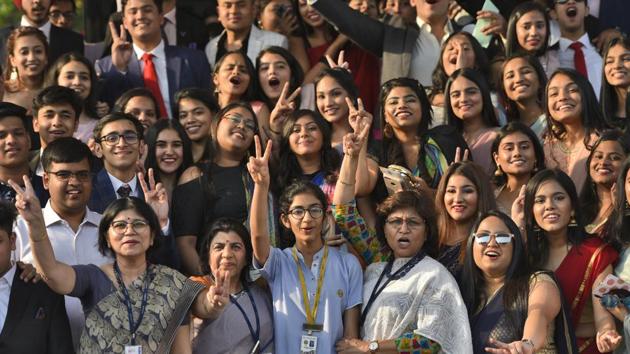 Updated on May 07, 2019 01:24 AM IST
Hindustan Times, New Delhi |
HT Correspondents
Six students from the National Capital Region (NCR) were among the 13 who topped the Class 10 exam, scoring 499 out of a possible 500 marks, according to results declared on Monday by the Central Board of Secondary Education (CBSE), which said there was a significant improvement in the overall pass percentage compared to last year.
In all, 1,761,078 students from 19,298 schools across the country appeared for the Class 10 examinations held in February and March. The nationwide pass percentage was 91%, a 4.3 percentage point improvement over last year's 86.7%.
In the national capital, private schools recorded a success rate of 93.18 %, 21.21 percentage points higher than government schools.
Keeping with a trend that has persisted over several years, girls performed better than boys. The pass percentage of girls was 92.65% against last year's 88.67%, while that of boys was 90.14% against last year's 85.32%. The pass percentage of transgender candidates was 94.74%.
According to CBSE, 225,143 students — an improvement of 71% over last year — scored 90% and above this year. In case of students scoring 95% and above, a total of 57,256 students crossed the mark this time compared to 27,426 last year — a jump of over 108%.
Academicians said the results were better this time around as students were better prepared as this was the second time that the CBSE board exam was held for Class 10 after it was resumed last year after a gap of nine years. Till then, the exam was optional.
"For the 2017-18 batch, the announcement to make board exam compulsory was made early last year. This year, however, students were mentally prepared. They were also able to access last year's sample paper unlike last time," said Amita Wattal, principal, Springdales School, Pusa Road.
Among regions, Thiruvananthapuram recorded the highest pass percentage at 99.85%, followed by Chennai at 99% and Ajmer at 95.89%. Even though Delhi region improved its passing percentage from 78.62% in 2018 to 80.97% this year, it ranked ninth in state-wise performance.
Among the 13 students who topped the exam, three were from Noida — Shivani Lath of Mayoor School, Siddhant Pengoriya of Lotus Valley International School, and Divyansh Wadhwa of Bal Bharti Public School — while three were from Ghaziabad — Ish Madan of Ch Chhabil Dass Public School, Apoorva Jain of Uttam School of Girls, and Ankur Mishra of SAJ School.
Among differently abled candidates, Dilwin Prince of Devamatha CMI Public School in Thiruvambady in Kerala emerged as the nationwide topper by securing 98.6%.
Twenty-five students shared the second rank by scoring 498. It included Delhi's Shivika Dudani, a student of Amity International School, Pushp Vihar. Among the 59 students who finished third, scoring 497 marks out of 500, six were from Delhi.
In terms of institution-wise pass percentage, government-run Kendriya Vidyalayas outperformed others with a pass percentage of 99.47%, Jawahar Navodaya Vidyalayas (JNVs), also run by the government, achieved a pass percentage of 98.57%, while for private schools the percentage was 94.15%.
As many as 11,267 students across India scored a perfect 100 in Social Sciences as compared to 9,614 who scored 100 in Maths and 2,872 students who got a perfect score in Science. In languages, 2,758 students scored 100 marks in Sanskrit, while 1,820 and 2,276 had a perfect score in English and Hindi, respectively.
Citing reasons behind the better performance in Social Sciences, Awadesh Kar Jha, head of school at Sarvodaya Vidyalaya, Rohini, said: "The Social Sciences paper this time was easier whereas Mathematics and Science papers were comparatively tough. We had students who came out crying after their science paper fearing that they would fail."
Close Story
Personalise your news feed. Follow trending topics