Chandrababu Naidu, Jagan Reddy trade barbs over no-trust motion against BJP
The TDP, which had announced support for the YSR Congress' no-confidence motion, decided to move a no-confidence motion against Modi government on its own.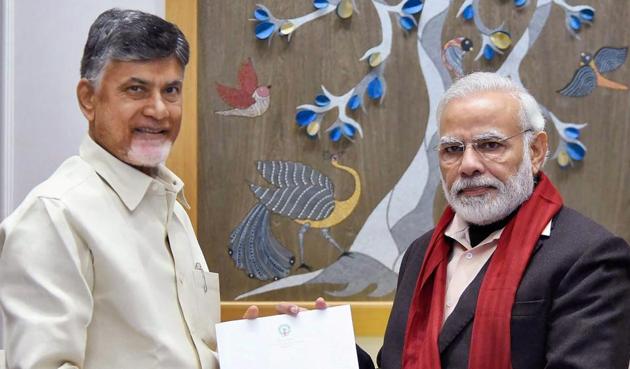 Updated on Mar 16, 2018 04:24 PM IST
Andhra Pradesh's ruling and opposition parties, the TDP and the YSR Congress Party, took pot-shots at each other on Friday in a bid to outdo the other after seeking separate no-confidence motions against the BJP-led NDA government at the Centre for not granting special category status to the state.
While the Jagan Mohan Reddy-led YSRCP had sought a no-confidence motion on Thursday, the TDP, a partner in the NDA, quit the alliance and followed the former's footsteps on Friday morning.
However, while Jagan welcomed the TDP's move, saying it had followed YSRCP and finally "woken up" to the needs of Andhra Pradesh, TDP president and state chief minister N Chandrababu Naidu said it sought its own no-confidence motion as it did not want to give "wrong signals" to the people.
"After 4 years of relentless struggle and fight by YSRCP with people's support for Special Category Status; finally the nation, including @ncbn's TDP wakes up!" Jagan said in a tweet.
He said that even if guided by political compulsion, the TDP had to yet again follow the YSRCP's lead of moving a no-confidence motion against the Centre for not granting special category status to the state, and promised to fight for the rights of the people of Andhra Pradesh.
The TDP, which had on Thursday evening announced support for the YSCRP's no-confidence motion, on Friday morning decided to move a motion on its own.
"Supporting a no-confidence motion moved by a thieves' party (YSRC) will send wrong signals to the people. Hence, we should move a motion on our own," Naidu told his party leaders via a tele-conference.
"YSRC's notice (for a no-trust motion) will have only five signatures whereas we have 16. It will be easy for us to muster support of 51 MPs (required for the motion to be taken up)," Naidu said.
Naidu targets PMO, and BJP, alleges conspiracy
The Andhra chief minister also mounted a scathing attack on the Prime Minister's Office (PMO) and the BJP for allegedly entertaining criminals and conspiring to destabilise the TDP government in the state.
"By giving appointments to A1 and A2, what message is the PMO sending to people?" he asked in a reference to Jagan and YSCRP MP Vijay Sai Reddy, who were accused in corruption cases, according to TDP sources quoted by IANS.
"What has an economic offender (got) to do in PMO?" he asked, reiterating the allegation that the YSR Congress was acting at the behest of BJP.
"'You move a no-confidence motion and make your MPs resign, we will grant SCS and make believe it happened only because of you'; that's the BJP drama through Jagan," he alleged.
He also targeted the BJP, saying it was enacting a "drama" through Jagan and Jana Sena chief Pawan Kalyan, by asking him to launch a fast-unto-death.
Referring to Kalyan's criticism of TDP, Naidu said a person who was silent for four years had suddenly started making allegations against his party instead of questioning the BJP and Modi. He said the Jana Sena chief had colluded with the YSR Congress.
"People are watching all this and they will teach a fitting lesson," he said
Close Story