Children's health under threat as Delhi air quality plummets
Hindustan Times |
, New Delhi
HT Correspondent
Nov 04, 2016 02:23 PM IST
Experts warned of severe health problems for children forced to attend school in a city enveloped by a thick layer of toxic smog.
Delhi's air quality plummeted to dangerous levels on Wednesday, leaving an estimated 16 million people gasping for breath as experts warned of severe health problems for children forced to attend school in a city enveloped by a thick layer of toxic smog.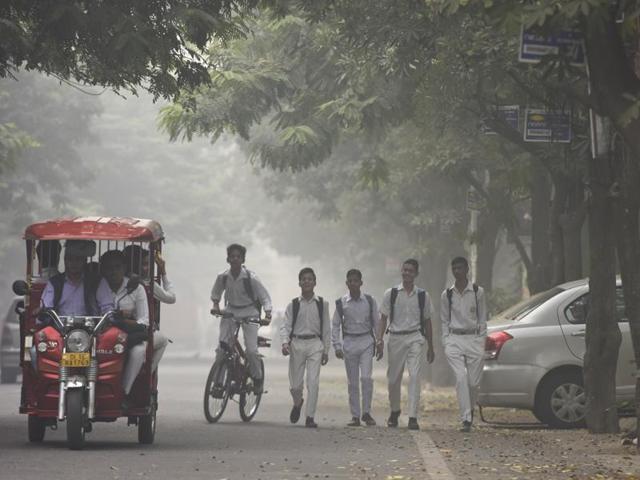 The government said there were no plans to close schools despite the alarming pollution levels since Diwali, compounded by negligible wind speed that has trapped the harmful air close to the surface and also reduced visibility drastically.
"Children's airways, lungs and immune system are still developing, which makes them vulnerable to airway allergies, respiratory infections and irreversible lung damage," said Anupam Sibal, senior paediatrician at the Indraprastha Apollo Hospitals.
Krishan Chugh, director of paediatrics at the Gurgaon-based Fortis Memorial Research Institute said, "Pollution levels are toxic and my advice to parents is to keep younger children (ages 6 and below) home."
Experts point out that in China, equally hit hard by vehicular and industrial pollution, a red alert is sounded and classes are suspended if pollution levels cross a certain threshold and remain unchanged for three consecutive days.
Track pollution levels in your city with this real-time air quality map
On Wednesday, multiple monitoring agencies in Delhi recorded the highly polluting and dangerous PM2.5 and PM10 at over 10 times the safe limit across the city-state during the day.
Health experts say these tiny particles can pass through the body's natural sieve, go deep into the airways and lungs and even enter the bloodstream, causing inflammation, heart disease, chronic lung disease and cancers, among others. The average human hair is about 70 micrometers in diameter.
The benchmark air quality index (AQI) was also recorded at "severe", indicating the highest level of pollution in the city even as the government appeared clueless on battling the menace despite announcing several schemes.
"If pollution levels deteriorate then the government will shut schools for a few days. Health of students is of prime importance but at present there is no such plan," a senior government official said.
Some schools admitted to a 10-15% lower attendance on days with dense smog, especially post-Diwali.
"Mostly students who already have breathing problems do not come to school on days with heavy smog," said Ruma Pathak, principal of MM Public School.
Some parents agreed that shutting schools for a few days will help.
"My son has breathing problems and I usually don't send him to school on such days. If schools are shut it will help but then what about pollution in general," said Roopa Aryan, mother of a six-year-old.
Schools in Gurgaon have put restrictions on outdoor activities while in Noida, authorities have asked students to wear masks while commuting or when on the playground.
However, some school authorities said they can't suspend classes as it would affect their schedule.
"Children's health is a priority but under the Right to Education (RTE) Act we have to have at least 220 working days per year. If we give holidays then studies will get affected. But definitely something needs to be done," said Madhulika Sen, principal of Tagore International School, Vasant Vihar.
The state-run System of Air Quality and Weather Forecasting and Research (SAFAR) said the air quality was likely to improve from Friday.
View gallery: From sunrise to sunset, Delhi covered in thick blanket of smog