China in Mind, India and Japan work on developing SEZs in Africa
Aug 20, 2017 11:38 PM IST
India and Japan are warming up to Africa amid China's rapidly expanding economic and strategic influence in the resource-rich continent.
Japan and India have finalised a blueprint for developing Special Economic Zones (SEZ) in African countries, an attempt aimed at countering the expanding Chinese footprints in the continent.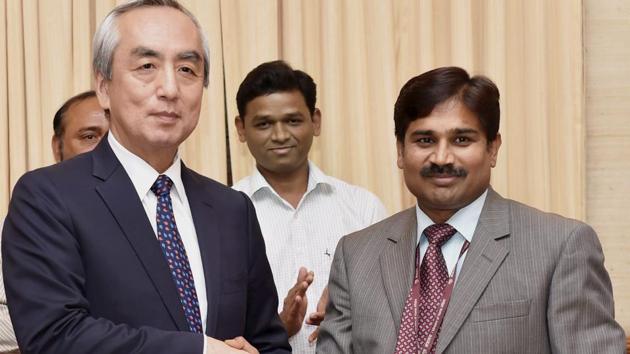 The first SEZ, Indian companies will be taking part of, will come up around Mombasa port in Kenya, which is being developed with Japanese assistance.
Around 10 Indian companies have evinced interest in being part of the SEZ which will focus on infrastructure, pharmaceutical, fertilisers and manufacturing.
Mombasa port is the gateway to the East African market, where Indian firms have considerable influence and presence.
"Indian companies have large presence in the region and Japanese companies have advanced technologies, both of them coming together for Africa is a win-win situation for both countries," Japanese ambassador to India Kenji Hiramatsu told Hindustan Times in a recent interview.
India and Japan are warming up to Africa in a way amid China's rapidly expanding economic and strategic influence in the resource-rich continent.
Both the countries aspire to become permanent members of the United Nations Security Council (UNSC) and the African union has 54 members, one third of the total membership of the United Nations.
Indian officials said New Delhi has been partnering with Japan for the development of African continent based on what two countries can do together for "economic prosperity and capacity building and development of the countries in the continent."
China's new military base in Djibouti — first in the region — has raised concerns in many world capitals as this showed China's strategic intent in the content.
India giving aid to big infrastructure projects in Africa is a recent phenomenon, which was started by the UPA II government and carried forward by the NDA government. The Japan is focusing on a "quality infrastructure strategy" — aimed at countering China's infrastructure development spree in many parts of the world. Various estimates put China would pump in one trillion USD as part of its One Road One Belt initiative into Africa. Japan's Overseas Development Assistance to Sub-Saharan Africa was 226 billion yen in 2015 and the figure for Middle-East and North Africa in the same year was 171 billion yen.