China wants historical cemetry at Ramgarh to be turned into global tourist spot
Published on Jan 14, 2018 01:13 PM IST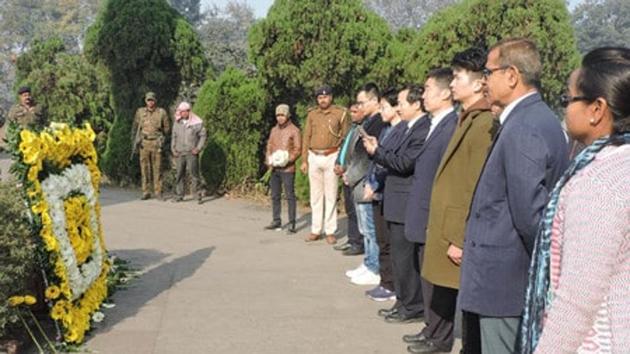 Press Trust of India |
, Ramgarh
Press Trust of India
The consul general from Chinese consulate in Kolkata MA Zhanwu has said China wants the historical cemetery in Ramgarh to be developed as a global tourist destination.
As many as 667 Chinese soldiers who were a part of Allied forces during World War-II were buried at the garrison town of Ramgarh in Jharkhand.
A five-member team from the Chinese consulate in Kolkata led by MA Zhanwu visited the cemetery on Friday last and paid their tribute to the Chinese martyrs who fought against Japan during the war, official sources here said.
Talking to administrative officials of Ramgarh, the Chinese consul general said that China has formally requested the state government to develop the historical cemetery as a tourist destination.
He said China would co-operate with the Indian government on the issue as the Chinese cemetery in Ramgarh is a silent witness of Indo-China friendship as soldiers buried in the cemetery had stopped Japanese forces from occupying Indian territory.
Ramgarh Deputy Commissioner Rajeshwari B said, "The consul general of China and his team was scheduled to visit the cemetery on Saturday but they arrived here a day before their schedule."
The Chinese cemetery, located nearly 4 kilometres from Ramgarh, on the Bhurkunda-Patratu route, was built in December 1944 by Cen Cheng Tung Kuo in memory of the war heroes, who lost their lives in the World War II.
The cemetery is spread over nearly 7.25 acre of land and is covered with forests.
Close Story
Personalise your news feed. Follow trending topics