Constituency watch: Caste matters more than progress in Jaipur
Updated on Oct 23, 2018 02:37 PM IST
Politics in 'most backward' region is influenced by border states Seven regions comprise Rajasthan. HT looks at how poll dynamics of these regions have changed since 1951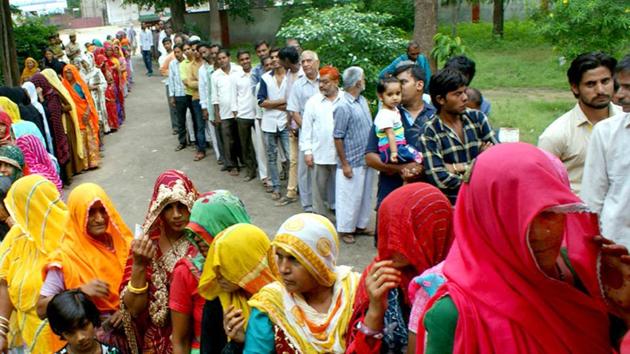 Matsya state during the British rule included Alwar, Bharatpur, Dholpur and Karauli as the dots joining the location of these four places formed the picture of a fish. The region that is the most backward in Rajasthan is often in the news for wrong reasons. It was once a haven for dacoits who terrorised people, while of late the region is making headlines over cow smuggling and violence by alleged cow vigilantes.
Alwar has 11 assembly constituencies. In 2003 assembly elections, Congress won seven seats, while the BJP and an independent candidate in Alwar bagged one each. In 2008 assembly elections, the BJP won on seven seats, while the Congress won three and BSP one. In 2013, the BJP made its presence stronger by winning nine seats, while the Congress tally went down to one and National Peoples Party won one seat.
"After the independence, till the 1990s, people of Alwar used to cast their votes based on party ideologies. It was pure politics. But now votes are based on religion and caste," said political analyst Hari Shankar Goyal. It further shifted on communal grounds, he added. Political analyst Narayan Bareth said the politics of Alwar, Bharatpur and Dholpur districts are also influenced by the bordering states Uttar Pradesh and Haryana.
"People of Bharatpur are politically more aware compared to other parts of Rajasthan as the neighbouring state of Uttar Pradesh is politically active than other states. Even people belonging to the Schedule Castes (SCS) in this region are politically aware because of Bahujan Samaj Party (BSP) supremo Mayawati in Uttar Pradesh."
The erstwhile royal family of Alwar was against the Congress but later it joined the party. The Bharatpur royals have their influence on the general public and people still vote for the candidate that the member of erstwhile royal family supports. The members of the former royal family usually contest from Kumher Deeg and Nadbai seats of Bharatpur, which has an influence on other seats, too, due to domination by the Jat community. Prior to delimitation, Bharatpur had nine assembly constituencies.
In 2003 elections, Congress and BJP won three seats each, while two seats were bagged by Indian National Lok Dal (INLD) and one by an independent candidate. After delimitation in 2008, it became seven assembly constituencies in Bharatpur district and 2008 assembly elections, BJP won six seats and Congress one. In 2013 assembly elections, BJP won six seats and Congress one.
Karauli district has four assembly constituencies -- Karauli, Hindaun, Sapotara and Todabhim. In 2003 assembly elections, BJP won two seats, while Congress and INLD won one seat each, while in 2008 elections, BJP, ongress, BSP and independent won one seat each. In 2013, the Congress won three seats and BJP one. Bareth says that the entire Karauli district, covered by hills and ravines, is remaining backward. "No development took place, because of caste politics. The district has Meenas, Gurjars and schedule castes. Meenas and Gurjars have been strong here, but now other schedule castes are also getting stronger. The Congress and the BJP have been playing caste politics here instead of development issues," he said.
In Dholpur, there were three assembly constituencies prior to delimitation -- Dholpur, Bari and Rajakhera. After elimitation, Dholpur got the fourth assembly constituency of Baseri. In the 2003 assembly elections, Congress on all the three seats in Dholpur district, while post-delimitation in 2008, the BJP won three seats and BSP one. In 2013, Congress won two seats, while BJP and BSP won one each. It is believed that in Karauli, voters decide the fate of the candidate as per the atmosphere favouring whichever party during election. Here votes are on the basis of caste and face, not on development issues, Bareth said.
It applies to Dholpur also but this time, the BJP seems to have emerged stronger there. People say that chief minister Vasundhara Raje spent many days in Dholpur this year and took up development works. She announced a medical college in Dholpur and took initiative to improve the facilities at the district hospital.
People of Dholpur want Raje to contest elections from Rajakhera assembly constituency or allow her daughter-in law Niharika to contest from here because of a sizeable number of Gurjars in the constituency, said Jitendra Rajoria, a political analyst. Both the Congress and the BJP in this region focus on caste politics instead of development. Nobody talks of roads, education, employment and others issues, but only caste permutations and combinations, he said.