Kashmir separatist leader Asiya Andrabi, 2 others sent to 10-day NIA custody
Jul 07, 2018 09:11 AM IST
Asiya Andrabi, who was in a prison in Srinagar after the Jammu and Kashmir high court cancelled her bail last month, was brought to Delhi from Kashmir along with her associates.
Asiya Andrabi, chief of the Kashmiri women's separatist group Dukhtaran-e-Millat (DeM), and two of her associates were arrested by the National Investigation Agency (NIA) on Friday for allegedly advocating the secession of Jammu and Kashmir and the use of violence against India.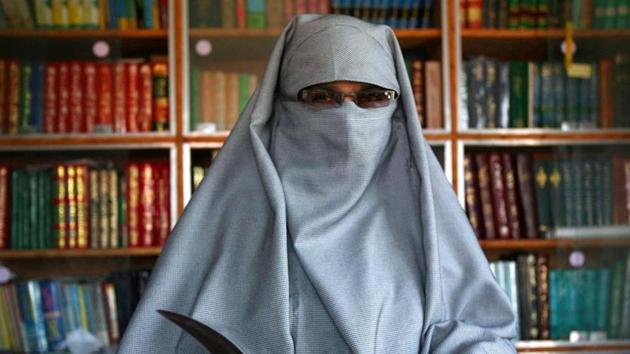 A special NIA court in the capital subsequently remanded the three to 10 days in custody.
Stay tuned with breaking news on HT Channel on Facebook.
Join Now
Government officials said on condition of anonymity that the move was among recommendations made at a security review meeting held in New Delhi on March 3 that was chaired by National Security Advisor Ajit Doval and attended by home secretary Rajiv Gauba, Intelligence Bureau director Rajiv Jain, NIA director YC Modi, J&K police chief SP Vaid and additional director general (law and order) Munir Ahmed Khan.
Andrabi is the founder of DeM, a separatist organisation formed in 1987 and described by the home ministry as a proscribed outfit.
She is also the wife of Hizbul Mujahideen commander-turned-Hurriyat leader Qasim Faktoo, who has been in jail since 1993 .
"The allegations against the accused persons are that they have been using various media platforms to spread insurrectionary imputations and hateful speeches that advocate use of violence against India and secession of Jammu & Kashmir from the Union of India. Ms. Asiya Andrabi and her associates have written and spoken words and published visible representations that excite disaffection towards the Government of India and promote enmity, hatred and ill-will between different communities on the grounds of religion," said NIA spokesperson Alok Mittal.
DEM was named in a earlier NIA case in which Lashkar-e-Taiba chief Hafiz Saeed and Hizbul Mujahideen supremo Syed Salahuddin were also charged.
The agency has now accused Andrabi of soliciting "help from other banned terrorist organisations to wage war against the Government of India".
"Further, she and her associates have been continuously indulging in acts that are prejudicial to maintenance of harmony and sovereignty and integrity of India," Mittal said.
The first information report (FIR) on this matter was registered on April 26 against Andrabi and her associates Sofi Fehmeeda and Nahida Nasreen.
Documents with HT show that one of the recommendations that came out of the security review meeting held in March was to divide convicts and under-trial prisoners into three categories — undertrials in NIA cases, foreigners and hardcore militants. A complete list of all the prisoners who need to be moved to other states was prepared; this included some senior leaders of the Hurriyat, an umbrella group of separatist organisations, a senior intelligence officer said, requesting anonymity.
"NIA was asked to closely pursue the developments of a matter wherein it is moving Supreme Court for transfer of undertrials from one state to another ," the intelligence officer said. Another recommendation was the deputation of selected police officers from central forces to Kashmiri jails.
A senior J&K police officer said that Andrabi's organisation is also believed to provide a "support structure" and financial aid to young men accused of and arrested for stone-pelting. "Providing employment opportunities, and rallying support for stone pelters is among the activities the organisation undertakes," the officer said on condition of anonymity.
Defence expert Ajai Sahni said the main focus of the government should be to prove a link between "criminal activities" and funds received by separatist groups.
"Everyone knows Hurriyat is responsible for protests, agitations and disruptions witnessed in Kashmir. The role of NIA should be to establish a clear link between criminal activities and separatist funding as the law to ascertain a connection is very weak. NIA has a better chance at securing a conviction as against the police as they have lesser cases to take care of, hence they can focus properly," Sahni said.