Cow vigilantism: Cop, villager killed in Bulandshahr clashes; UP sets up probe team
Protesters, including members of right-wing groups, clashed with securitymen and set their vehicles and a police post on fire in the three-hour rampage after reports of cow slaughter at Mahaw village on Sunday night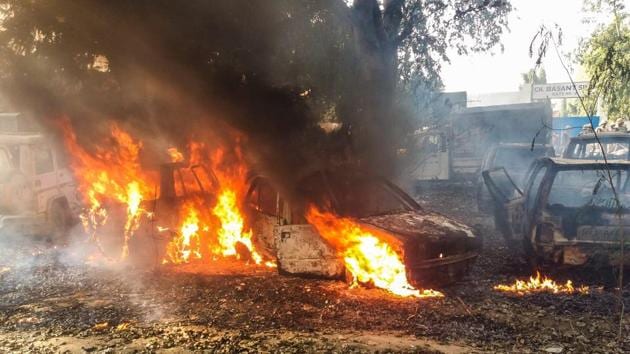 Updated on Dec 04, 2018 07:17 AM IST
Hindustan Times, Meerut |
S Raju
A police inspector and a villager were killed after protests over alleged cow slaughter swirled out of control in UP's Bulandshahr and a mob attacked security personnel who opened fire during the melee, officials said on Monday.
Protesters clashed with securitymen and set their vehicles and a police post on fire in the three-hour rampage after reports of the recovery of carcasses at Mahaw village on Sunday night, said Prashant Kumar, the additional director general of police (Meerut zone).
Inspector Subodh Kumar Singh died of injuries, probably caused by a blunt object, he said. However, later, district magistrate Anuj Kumar Jha said Singh died of gunshots.
Singh was part of the initial investigation into the murder of Mohammad Akhlaq, a resident of Uttar Pradesh's Dadri village who was lynched by a mob in September 2015 over another incident of alleged cow slaughter. A 21-year-old man, identified as Sumit, too, died after being hit by bullets, but police said only a post-mortem would reveal if the shots were fired by the forces.
Five officials, including a circle officer, were wounded in the clashes that began around 11am just 130km from New Delhi. Soon, they spread to nearby villages.
The state government, which faced attacks by Opposition parties, ordered three separate probes into the violence.
The probes ordered were a special investigation team probe, an inquiry by the additional director general (intelligence) and a magisterial investigation, said Anand Kumar, the additional director general of police (law and order) in Lucknow.
"This morning, carcasses of the cows were found dumped in a forest area outside the village. Activists of right-wing organisations soon gathered at the spot and alleged that people of a community were indulging in cow slaughter," he said.
Protesters started gathering at Mahaw and nearby areas early on Monday. They brought the carcasses that, they said, were of a cow and a calf to a police outpost 2km away on a tractor and demanded action against those guilty of killing the animals.
Cow slaughter is banned in many Indian states, including Uttar Pradesh, because Hindus consider it a sacred animal.There have been multiple cases of lynchings over alleged cow slaughter and illegal cow transportation reported over the past few years from Uttar Pradesh, Haryana, Jharkhand, Rajasthan, and other parts of North India.
An estimated 400 protesters shouted slogans against police and blocked the BulandshahrGarh highway. Officials tried to pacify the group but the protesters refused to budge, said the district magistrate.
Soon after, a mob went on the rampage, pelting policemen with stones and indulging in arson. Jha said police had to open fire in self-defence.
Expressing grief over the incident, chief minister Yogi Adityanath, who was in Rajasthan for election campaign, said action will be taken against the guilty after the probe reports were received. He also said financial assistance would be given to affected persons.
Uttar Pradesh Congress Committee (UPCC) president Raj Babbar said, "Yogi is busy making tall claims about the situation in his state whenever he is visiting other states. In UP, the situation, however, has gone from bad to worse... the people, including the policemen, are not safe."
Samajwadi Party (SP) national president Akhilesh Yadav called the Bulandshahr incident unfortunate. "Ever since this government came to power, policing has collapsed," he said. "The murder of the police inspector proves that UP is under 'jungle raj'."
Close Story