Curfew imposed in J&K's Kishtwar after militants snatch gun from cop
Updated on Sep 13, 2019 08:49 PM IST
The incident took place at PDP leader Sheikh Nasir's house in the town.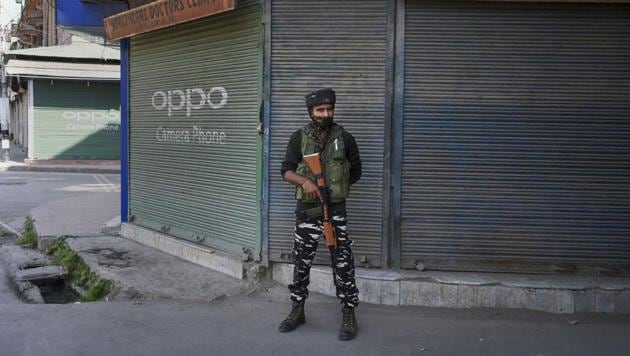 A day after Jammu and Kashmir Police nabbed three Jaish-e-Mohammed operatives in Lakhanpur area of Kathua on Thursday, three to four suspected militants snatched a gun from the personal security officer (PSO) of a PDP leader in communally-sensitive Kishtwar town of Jammu and Kashmir on Friday morning.
"We have imposed curfew in Kishtwar town after a gun-snatching incident. Around three to four suspected militants snatched the official weapon, probably an AK-47, from the PSO of PDP district president Sheikh Nasir around 10.45 am," Kishtwar district magistrate Angrez Singh Rana told Hindustan Times.
Rana said check-posts have been put up in and around Kishtwar to nab the suspected militants.
Also read: Allow NC leaders to meet Omar, Farooq Abdullah: High court to J&K govt
The incident took place at the PDP leader Sheikh Nasir's house in the town.
Brother of Sheikh Nasir said that the militants said that they have "got instructions to eliminate him and his PSO".
"Last night around 11 pm three militants stormed into our house and held the entire family hostage. One of them had an AK-47 rifle while two others had pistols. They told my brother Sheikh Nasir that they have got instructions to eliminate him and his PSO. Through the night they held us hostage. They also beat up a domestic help and gagged his mouth and tied him with ropes. My brother was tied in another room and I was kept in a separate room. The militants had also taken away our mobile phones, so that we could not contact anyone," said Dr Sheikh Nazeer
Dr Nazeer said that women and children were locked in another room for the night.
"This morning they asked my brother to call his PSO from his phone which they had taken away the preceding night and asked him to tell PSO to come home. As soon as the PSO entered the house, these militants overpowered him and snatched his weapon before locking him in a room.. Before fleeing they asked my brother to give them his car. My brother said that his vehicle was short on fuel and thereafter, they asked me to hand over my car to them. I quietly did what they asked me to do. The car, a WagonR, was parked outside the house from where they fled away around 9 am this morning," added the brother of Sheikh Nasir.
District magistrate Angrez Singh Rana also corroborated to Nazeer's statement to the media.
A top district official said dense forests in the upper reaches of Kishtwar makes this part of the district a haven for terrorists.
"The upper reaches of the hilly district have dense forests, snow-capped hills and natural caves. These terrorists move in the upper reaches and once they enter a natural cave, it becomes very difficult to trace them," he said.
Also read: A new history has begun in Kashmir | Opinion
The Sinthan Pass in Kishtwar district connects it to Anantnag district in south Kashmir that has been the hotbed of terrorist activity.
Though Kishtwar district was declared terrorism-free over a decade ago, it was rattled by the killing of BJP leader Anil Parihar and his brother, Ajeet Parihar, on November 1, followed by the killing of RSS leader Chandrakant Sharma and his security guard Rajinder Kumar inside Kishtwar district hospital on April 9.
On May 31, two special police officers were injured in an encounter with terrorists in Appan area of Marwah belt in the same district. The ultras had managed their escaped after the encounter.
On July 24, Lashkar-e-Taiba (LeT) militant Jamal Din surrendered before the security forces during in Kishtwar town. He had joined the terror outfit last year.
Personalise your news feed. Follow trending topics