Doklam standoff: Japan signals support to India over border row with China
Updated on Aug 18, 2017 10:51 AM IST
India and China have been locked in military standoff for several weeks now, sparking diplomatic tension over Doklam, which falls within the India-Bhutan-Tibet tri-junction.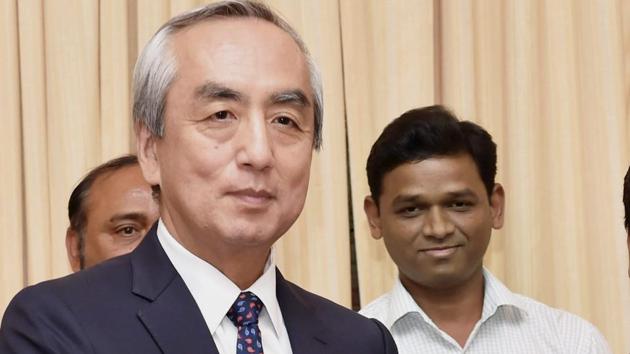 Japan on Thursday said no country should use unilateral forces to alter the status of Doklam, in the India-Bhutan-Tibet tri-junction where the standoff between India and China entered the second month.
In an interview to Hindustan Times Japanese ambassador to India Kenji Hiramatsu said Doklam is a disputed territory between China and Bhutan and his country understands why India has got involved in the dispute.
"We recognize Doklam is a disputed area between Bhutan and China and two countries are engaged in border talks… We also understand that the India has a treaty understanding with Bhutan that's why Indian troops got involved in the area," the envoy said.
Japan is the first major power to talk openly about Doklam standoff.
The government of Bhutan last week refuted Chinese foreign ministry claims about Thimpu telling Beijing that the stand-off area in Doklam in the Sikkim sector is not Bhutan's territory.
Chinese diplomat Wang Wenli, deputy director general of the Department of Boundary and Ocean Affairs in China's foreign ministry had claimed that Bhutan had conveyed to Beijing "through diplomatic channels that the area of the standoff is not its territory".
The envoy said that no country should use force to change the status of Doklam. India said the Chinese road construction in Doklam – which was objected to by Bhutan – was a move to alter the status of tri-junction which is of huge national security implications for India. India cited a 2012 understanding with China which says any change in the status of tri-junction, the third party (in this case, Bhutan) needs to be consulted. The envoy said Japan welcomes external affairs minister Sushma Swaraj's statement that India is trying to find out a solution to the faceoff through diplomatic means.
When asked whether he sees the Doklam standoff as part of the larger issue of China getting aggressive about issues of sovereignty, he said "it is not easy to make such assumptions and some instances could be seen as they are". Japan is also engaged with sovereignty tussle with China over East China sea.
Replying to another question on One Road One Belt, a vanity project of Chinese president Xi Jingping the envoy said Japan and India have discussed the project many a time. Unlike India, Japan had attended the OBOR conference, which the envoy said was a decision based on the bilateral ties between the two countries. He also pointed about infrastructure development is something Japan is also focusing on.
He said the terms of loans, environmental issues, and respecting the regulations of each countries are some issues that Japan, like India, is concerned about the implementation of OBOR.
Personalise your news feed. Follow trending topics