Domestic air passenger traffic up 23% in 2016: DGCA
Updated on Jan 17, 2017 07:21 PM IST
India's domestic air passenger traffic zoomed by 23.18% in 2016 to 998.88 lakh, official data showed on Tuesday.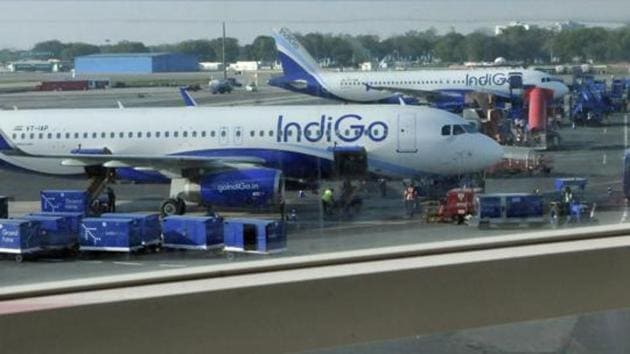 India's domestic air passenger traffic zoomed by 23.18% in 2016 to 998.88 lakh, official data showed on Tuesday.
"Passengers carried by domestic airlines during January-December 2016 were 998.88 lakh as against 810.91 lakh during the corresponding period of the previous year, thereby registering a growth of 23.18%," the Directorate General of Civil Aviation (DGCA) said in its statistical analysis for last month.
According to the data furnished by the DGCA, domestic air passenger traffic increased by 23.91% during December to 95.52 lakh from 77.09 lakh reported during the corresponding month of last year.
In November 2016, the passenger traffic had risen by 22.45% to 89.66 lakh.
The data showed that low-cost carrier (LCC) SpiceJet had the highest passenger load factor (PLF) during the month under review at 93.7%.
"Not only have we scored a hat-trick with the best OTP (on-time performance) for the third consecutive month in a row, we have also recorded over 90 per cent passenger load factor for 21 successive months," G.P. Gupta, Chief Administrative Officer, SpiceJet was quoted as saying in a statement.
The LCC was followed by budget passenger carriers IndiGo (91.4) and GoAir (90.7).
The data showed that SpiceJet led the industry with 70 per cent punctuality rate at four major airports of Bengaluru, Delhi, Hyderabad and Mumbai.
It was followed by Jet Airways and JetLite (64.3), Vistara (64.2), GoAir (63.6), IndiGo (61.6), and Air India (59) being on schedule.
Meanwhile, Air Costa had the highest number of cancellations at 13.65 per cent, followed by Air Carnival (12.03), Trujet (5.01), IndiGo (2.83), Air India (1.91), Jet Airways (1.77), SpiceJet (1.66), JetLite (1.40), GoAir (0.79), Vistara (0.40) and AirAsia India (0.11).
"The overall cancellation rate of scheduled domestic airlines for the month of December 2016 has been 2.18 per cent," the aviation regulator said in its analysis report.
The data disclosed that a total of 907 passenger related complaints had been received during last month.
In terms of market share, budget passenger carrier IndiGo led the industry with the highest market share of 41.6 per cent, followed by Jet Airways (15), Air India (13.3), SpiceJet (12.8), and GoAir (8.00).
Vistara reported a market share of 3.2%, followed by AirAsia India (2.8), JetLite (2.5), Air Costa (0.6), Trujet (0.4) and Air Carnival (0.1).
Personalise your news feed. Follow trending topics