'Don't know why…': Deepender Hooda on WFI chief's counter-allegation
Jan 23, 2023 11:00 AM IST
Congress MP Deepender Singh Hooda said a defamation case will be filed against WFI president Sharan Singh for putting allegations against him and former Haryana CM Bhupinder Singh Hooda
Congress MP Deepender Singh Hooda on Monday said he will file a defamation case against Wrestling Federation of India (WFI) president Brij Bhushan Sharan Singh for dragging his and former Haryana' chief minister Bhupinder Singh Hooda in the wrestlers' protest. The Congress MP demanded independent inquiry into the allegations levelled against the WFI chief by prominent wrestlers of the country.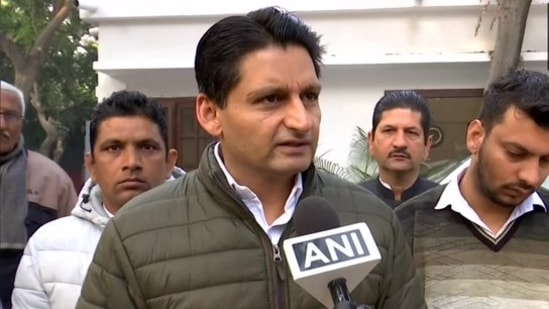 "I don't know why he has dragged our names. We're filing a defamation case against him. Our wrestlers are fighting for justice & entire nation is supporting them. Independent inquiry must be done," Hooda was quoted as saying by news agency ANI.
Read| Wrestlers' protest against WFI chief called off: What happened in three days
Deepender Hooda was reiterating the former Haryana CM's earlier statement. Slamming the Bharatiya Janata Party (BJP) and WFI chief, Bhupinder Hooda, on Sunday, demanded a fair inquiry into the matter. "The wrestling body president has unnecessarily tried to drag Deepender and my name into the matter. I am consulting with lawyers for filing a defamation case against WFI president," he said at a press conference.
Earlier, WFI chief and BJP MP Singh alleged that allegation of sexual harassment against him was made at the behest of the former Haryana CM and the Congress MP.
Meanwhile, the government has fired WFI official Vinod Tomar and suspended all activities of the federation till the investigation is complete. Union sports minister Anurag Thakur said on Sunday that the government has ackowledged the wrestlers' allegations and an oversight committee will begin an impartial probe into the matter.