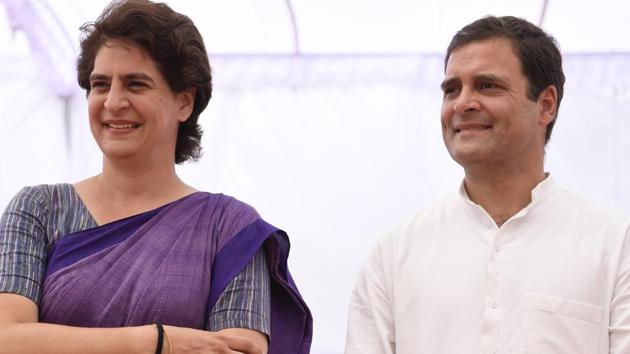 'Duryodhan vs Krishna...': When politicians leaned on epics to hurt rivals
The historic epics Ramayana and Mahabharata came alive as politicians cutting across party lines called each other names from either of the two epics.
Hindustan Times, New Delhi | By HT Correspondent
UPDATED ON MAY 07, 2019 07:53 PM IST
On Tuesday, amid the heat of the political campaigning of perhaps what has become the most bitterly fought election, the historic epics Ramayana and Mahabharata came alive even as politicians cutting across party lines called each other names from either of the two epics.
To begin with, Congress general secretary Priyanka Gandhi Vadra, who is also in charge of eastern Uttar Pradesh, turned to the epic Mahabharat to hit out at Prime Minister Narendra Modi and referred to him as "Duryodhan" and at the same time, she referred to the Congress president Rahul Gandhi as "Lord Krishna". Duryodhan was the eldest of the Kaurava brothers, the hundred sons of blind king Dhritrashtra and his queen Gandhari.
In her public address at Ambala in Haryana, Priyanka Gandhi said, "This country has never forgiven egoism and pride. History is witness. Mahabharata too is witness. Duryodhan too had such an ego. When Lord Krishna went to show them to light, they tried to take him captive as well."
Responding to Priyanka Gandhi's attack, BJP chief Amit Shah fired a riposte at her from across the country at a rally in West Bengal.
Claiming that the Congress had insulted PM Modi 51 times, he referred to the PM as "Arjun" and said, "Priyanka Gandhi has compared Modiji to Duryodhan. But the people of the country will decide on May 23 who is Duryodhan and who is Arjun." In the epic, Arjun is one of the five Pandava brothers, who was also an ace marksman with a bow and arrow.
Meanwhile, not far from where Amit Shah was responding to Priyanka Gandhi, in Bihar, the Janata Dal (United) had its own Ramayana moment when the party spokesperson Sanjay Singh referred to Rashtriya Janata Dal chief Lalu Yadav's eldest daughter and Rajya Sabha MP Misa Bharti as "Surpanakha" - one of the central characters of Valmiki's epic and sister to the king of Lanka Ravana, the antagonist in the story.
"Her (Misa Bharti's) role in the Lalu family is that of Surpanakha," Singh told media persons while reacting to Bharti's comments at a political programme on Monday where she declared Tejashwi as the heir apparent of her father and RJD chief, Lalu Prasad Yadav.
Also read | 'Arrogant like Duryodhan': Priyanka Gandhi jabs PM after 'corrupt Rajiv' attack
Responding to Sanjay Singh's remarks, RJD spokesperson Vijay Prakash said that the JD(U) was a family of devils, a throwback to the Asuras, led by Ravana.
"We have Sitas and Radhas in RJD. On the contrary, JD (U) nurtures devils and evil spirits. These evil spirits only look for opportunities to harm others," Prakash said.
But this is not the first time that the epics have been invoked in this Lok Sabha election.
In July last year, the Congress had referred to the PM as "Dhritrashtra" - the blind Mahabharata king.
"Sensing defeat in 2019 general elections, Prime Minister Modi has become blind like Dhritarashtra due to his lust for power. By spreading hatred and pursuing divisive politics, he is aiming to win the election," Congress spokesperson Randeep Singh Surjewala had said, adding, "BJP's sole aim is to grab power. Power-hungry BJP is playing the role of Duryodhan."
Interestingly, in Uttar Pradesh, which sends 80 members to the Lok Sabha, the state is teeming with characters from the Mahabharata.
As per the Election Commission, there are more than 6.5 lakh voters named Krishna and 30 lakh named Gita in the voter list.
The name "Sanjay", after the narrator of the battle of Kurukshetra to King Dhritrashtra, is shared by 26.70 lakh voters in the state, while there are more than 9.2 lakh voters called Arjun and 2.09 lakh have been named after the Bhim.
The electoral list also has 95,966 Draupadis, 16,225 Yudhishthirs and 1,422 Dronacharyas. Bhishma figures 23,253 times in the voter list and even the epic's villain Duryodhan has 62,311 namesakes.
Also read | Will Lord Ram's name be taken in Pak, if not in India: Amit Shah attacks Bengal CM Mamata Banerjee
Close