ED summoned me as witness in bitcoin scam probe: Raj Kundra
Raj Kundra said accused Amit Bharadwaj was intending to buy a team in his Poker League and had entered into a contract with them for the same.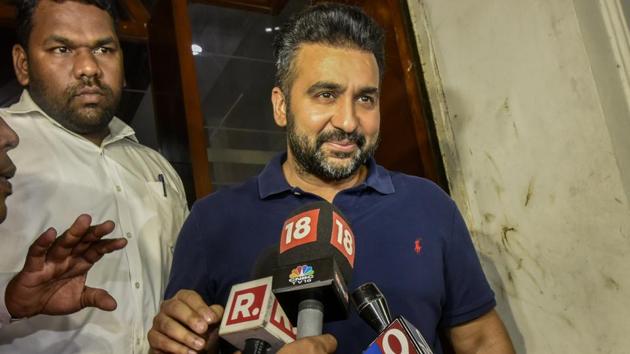 Updated on Jun 06, 2018 04:47 PM IST
Indo Asian News Service, Mumbai |
Indo Asian News Service
Mumbai businessman Raj Kundra on Wednesday claimed that he had gone to the Enforcement Directorate (ED) as a witness for the ongoing investigations in the ₹2,000 crore bitcoin scam.
Kundra -- the husband of Bollywood actress Shilpa Shetty -- had appeared before the ED office in Mumbai on Tuesday.
According to some media reports (not by IANS), he was reportedly grilled for several hours by the ED investigators.
"I was summoned by the ED merely as a witness. An enquiry is underway by the concerned regulatory authorities and I stand committed to extend all my cooperation to the law enforcement agency," Kundra said, clearing the air on the issue in a statement.
A businessman with interest in sports, this is not Kundra's first brush with law.
In the past, he had appeared before different authorities on his investments in the Rajasthan Royals IPL team.
Some members of that team were also embroiled in the cricket spot-fixing scandal.
In his statement here vis-A-vis the media speculation of his grilling, Kundra said: "I am terribly disappointed by the irresponsible reporting carried out by some sections of the media. Clarity on the issue should have been sought before carrying such headlines."
"The authorities, summoned me merely as a witness, as the accused Amit Bharadwaj happens to be an acquaintance and some introductions were made hence there is a certain protocol being followed by the agencies," said Kundra.
He added that Bharadwaj was intending to buy a team in his Poker League and had entered into a contract with them for the same.
"However, he was expelled on account of non-payment of fees and I was called as a witness in this connection. While we continuously strive to keep taking steps to improve our reputation, these type of unconfirmed, baseless, reports severely dent our market perception and erode investor sentiments," he said.
"Notwithstanding what has happened, at Viaan Industries, we shall continue to focus on growing our gaming and media vertical. We remain excited about the company's future and strive to keep adding shareholder value," he said.
It may be recalled, the ED, sometime back, had registered a criminal case under the Prevention of Money Laundering Act (PMLA) against a bitcoin-based investment website GainBitcoin, its founder Amit Bhardwaj and eight others.
The ED had alleged that about 8,000 investors lost around ₹2,000 crore funds by transacting in this scheme.
The Pune police had later arrested Bhardwaj and his brother Vivek in the case.
Close Story