Elephant named 'Laden' may have killed 37 people in Assam since 2016
Updated on Jun 09, 2018 05:41 PM IST
Assistant conservator of forests, Nayanjyoti Rajbongshi, said the department suspects Laden to be behind death of 37 people since 2016 when he walked down from Garo hills in Meghalaya to make Goalpara forest his home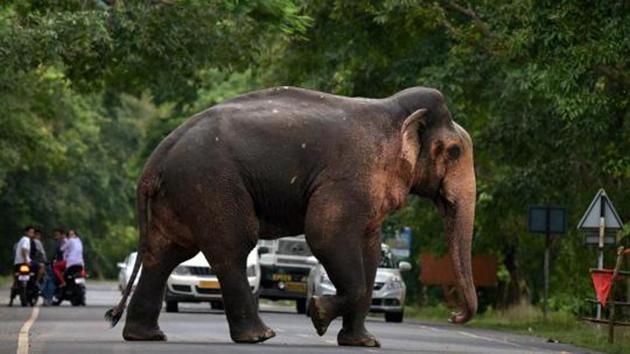 Hindustan Times, Guwahati |
Sadiq Naqvi
An Assam forest officer has asked the state forest department to declare an elephant named 'Laden' by locals as rogue suspecting he has killed 37 persons in villages in and around 363 square kilometers of Goalpara forest division since 2016.
The latest killing was reported on June 1 when Manoj Hajong, a tribal from Patpara Pahartoli village in the lower Assam woke up in the middle of the night to find his house under attack by a wild jumbo. After a brief confrontation, Hajong was crushed to death by the jumbo.
"It was 3.40 am and by the time I came out it was all over. I saw the elephant walking away," said Sanjay Hajong, Manoj's cousin and his next door neighbour, explaining that because of his "unusually big size" he has been named Laden. Bhawesh Biswas, the officer in charge of Rangjuli Police station under which Hajong village falls, described Laden as one who "walks with courage" and is "shrewd".
Assistant conservator of forests, Nayanjyoti Rajbongshi, said the department suspects Laden to be behind death of 37 people since 2016 when he walked down from Garo hills in Meghalaya to make Goalpara forest his home.
"He attacks mostly in the late evenings, or night," said A Goswami, divisional forest officer of Goalpara, as he explained the arrival of this 'Makhna'— the phrase to describe a jumbo leaving his herd.
Goalpara shares a contiguous forest with the Garo Hills and movement of elephants is common. The problem started when villagers on the border panic and try to drive the elephants back to Assam. "When the villagers spot herds, they start shouting, beating the drums, creating panic among jumbos, which sometime leads to retaliation," Goswami said.
The government has set up elephant depredation protection committees at the village level to minimize damage along with a messaging system which alerts villagers of the movement of elephants through SMSes.
Goswami said solitary elephants are more problematic and the herds are docile and the system may not work efficiently in case of solitary pachyderms like Laden.
The department has been monitoring his movements for the last three months and a dossier is being prepared. "The pattern shows after every attack he goes untraceable for 10-15 days," Goswami said, adding that most attacks happen towards the end of the month.
The divisional forest office has written to the principal chief conservator of forests to declare Laden a 'rogue' under the Wildlife Protection Act so that he can be hunted down. In 2006, another jumbo nicknamed as Laden was killed by a hunter in Sonitpur district after being declared a rogue.
In order to reduce the deaths, Goswami said the villagers should stop going to the reserve forest areas saying that three out of the seven casualties this year have been inside reserve forests.
Personalise your news feed. Follow trending topics