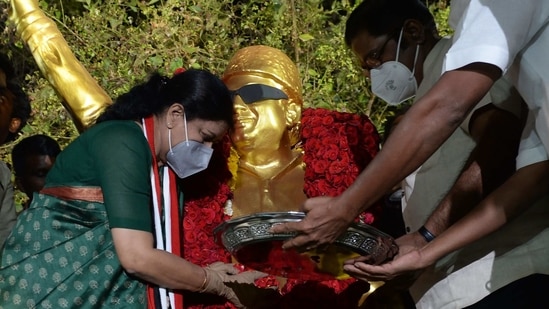 Experts decode Tamil Nadu assembly election link to VK Sasikala's surprise move
In 2017, when VK Sasikala had briefly held the reigns of the party and O Panneerselvam revolted against her, he had the backing of the RSS-BJP combine
By Divya Chandrababu
, Hindustan Times, Chennai
UPDATED ON MAR 05, 2021 01:55 PM IST
Electoral realities in poll-bound Tamil Nadu and ally Bharatiya Janata Party (BJP)'s efforts to prevent split in ruling All India Anna Dravida Munnetra Kazhagam (AIADMK)'s vote bank could have influenced V K Sasikala's surprise announcement that she will "stay away from politics", political observers said.
Sasikala, an expelled AIADMK leader and close aide to late chief minister J Jayalalithaa, made the announcement on Wednesday amid a buzz about her return to the party weeks ahead of the assembly elections on April 6. She urged the AIADMK cadre to stay united and defeat the opposition Dravida Munnetra Kazhagam (DMK) in the polls to ensure Jayalalithaa's "golden rule" continues. Sasikala had a month earlier announced her intention to engage in active politics following her release from prison after the completion of a four-year term in a disproportionate assets case.
Questions remain over what transpired ahead of Sasikala's announcement. Some believe Sasikala has taken the moral high ground and showed herself as the most loyal politician to Jayalalithaa. Political experts say this would help her return to politics in case the AIADMK loses the polls. In case it wins, she could cajole the BJP to help her return to politics.
Sasikala's announcement is seen as a setback to her nephew, TTV Dhinakaran, who floated the Amma Makkal Munnetra Kazhagam (AMMK) in 2018, with a breakaway faction of her supporters. Political experts say with Sasikala out, he would not have much to offer to voters against the AIADMK. People would prefer voting for the AIADMK than his party.
People aware of the matter said Dinakaran failed to convince Sasikala to re-think while the BJP and AIADMK welcomed her announcement. "Dhinakaran misguided Sasikala that several MLAs [members of legislative assembly] and leaders were waiting for her to return to Chennai," said political commentator Durai Karunanidhi. "She waited for a month and it is clear the AIADMK will not take her back. She cannot act further and be accused of breaking Jayalalithaa's AIADMK. Neither can she lead the AMMK which would be a betrayal of Jayalalithaa and it would be useless." Karunanidhi said Sasikala has lost confidence that she can be successful politically like Jayalalithaa.
Dhinakaran, who is AMMK's chief ministerial candidate, said Sasikala felt if she stays away, the AIADMK cadre will be united.
Even Sasikala's team managing her political affairs said her decision was unexpected. "We do not know why, but madam suddenly took this decision," said one of her team members on condition of anonymity.
Sasikala's announcement followed a three-hour midnight meeting between Union home minister Amit Shah, chief minister Edappadi Palaniswami and his deputy, O Panneerselvam, on February 28. The three discussed seat-sharing as well as Sasikala and Dhinakaran.
A BJP leader called Sasikala "a factor in Tamil Nadu elections". Tamil Nadu BJP chief L Murugan welcomed her decision and call to defeat the DMK.
Political observers say the BJP would have pitched for AMMK to be accommodated if not for a merger for the consolidation of the anti-DMK votes. AMMK had a 4% vote share in the 2019 Lok Sabha polls in the state as Sasikala and her family enjoy support in Tamil Nadu's south and central districts, where their Mukkalathur community is concentrated. Palaniswami has opposed the idea of accommodation.
Political commentator Sriram Seshadri said one can only guess at this point if the BJP advised Sasikala to remain silent. "But we can expect some understanding to unfold in the next few days. AMMK may contest limited seats where they are strong, which would give us more clarity."
Paneerselvam was believed to have the BJP's backing when he revolted against Sasikala's leadership in 2017. "From that episode, it is clear that the BJP does not want Sasikala to take up a central role," said Karunanidhi. "Chances are the BJP would accommodate AMMK but would want her to keep away."
Some believe Sasikala's withdrawal could be temporary, and she could make a comeback in a post-poll scenario particularly if the AIADMK loses. Karunanidhi cited Jayalalithaa's 1998 announcement that she has quit politics. "It was the third such announcement...she said that her decision is final, final, final." He added the next morning AIADMK leader S D Somasundaram announced that Jayalalithaa will continue to lead the party. "Sasikala convinced Jayalalithaa every time she wanted to quit. If the AIADMK loses in 2021, Sasikala could try again to reclaim the party with the strength that she chose to keep away to ensure its win."
Sasikala was a close aide to Jayalalithaa for close to three decades. She took an active part in public life after Jayalalithaa's death in December 2016. The AIADMK cadres began addressing her as Chinamma (Amma Jayalalithaa's younger sister) as she was given the party top post as interim general secretary.
Sasikala's chief ministerial aspirations were cut short after she was convicted in the disproportionate assets case in February 2017. O Paneerselvam resigned to make way for Sasikala but later revolted against her. Sasaikla handpicked Palaniswami to govern in her absence. But Palaniswami merged his faction of the party with Paneerselvam's and expelled Sasikala and Dhinakaran from AIADMK.
Topics
Close