Eleven people including three children were electrocuted after a temple chariot procession came in contact with a live wire while negotiating a turn on Wednesday.The incident took place at around 3 am near Kalimedu, when the Appar Swamy temple chariot procession was underway.

"The members violated party principles and brought disrespect to the AIADMK," the party said in a statement signed by joint coordinator Edappadi Palaniswami and coordinator O Panneerselvam, both former CMs.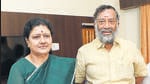 Led by top leaders O Panneeerselvam and K Palaniswami, the AIADMK workers, who thronged Jayalalithaa's memorial, pledged to not allow "enemies to win through divide and rule conspiracies."

The amended bylaws will strengthen norms to retain the present leadership structure of top two positions held by O Panneerselvam and K Palaniswami.

Last week, the party had filed a police complaint against Sasikala, aide to former chief minister J Jayalalithaa, for unveiling a plaque identifying herself as the AIADMK 'general secretary'.