Foreign minister Sushma Swaraj to visit China in April for key meeting
Updated on Mar 13, 2018 06:09 PM IST
External affairs minister Sushma Swaraj will be travelling to China to attend the SCO foreign ministers' meeting scheduled for April 23-24.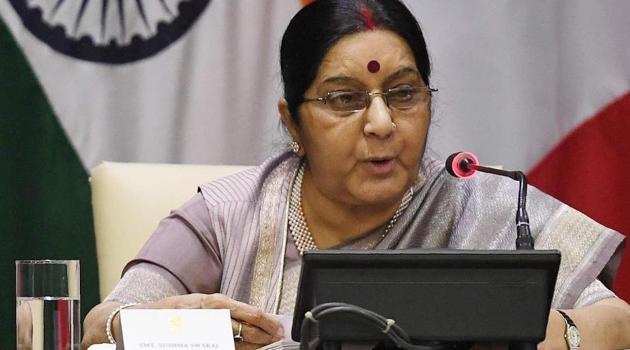 Press Trust of India, New Delhi |
Press Trust of India
External affairs minister Sushma Swaraj will travel to China next month to participate in the foreign ministers meeting of Shanghai Cooperation Organisation (SCO), ahead of its summit that is expected to be attended by Prime Minister Narendra Modi in Chinese city of Qingdao in June.
Swaraj's visit also comes in the backdrop of efforts being made by India and China to move forward after last year's military stand-off in Doklam, which still remains an area of monitoring and strategic significance for New Delhi amidst China building infrastructure for its troops there.
According to officials, Swaraj is scheduled to travel to Japan on a bilateral visit from March 28, and will also undertake a trip to the US to participate in the strategic dialogue in the '2+2' format (foreign and defence consultations) in Washington on April 18. Defence minister Nirmala Sitharaman is also scheduled to travel to the US for the dialogue.
"The external affairs minister will be travelling to China to attend the SCO foreign ministers' meeting scheduled for April 23-24," a senior official said.
India, which had been an 'observer' in the Eurasian grouping since 2005, was made full member last year along with Pakistan.
During her China visit, Swaraj is also expected to hold bilateral meeting with her Chinese counterpart Wang Yi on the sidelines of the summit. The two leaders had held a bilateral in December here on the sidelines of the Russia-India-China (RIC) trilateral.
The minister is also likely to hold bilateral talks with her counterparts from other SCO countries on the sidelines of the meeting but it was not clear whether she will have any bilateral interaction with her Pakistani counterpart.
The visit is also seen as an opportunity for both India and China to work on the agreement, reached between Prime Minister Modi and President Xi Jinping in Xiamen in September last year, that sound development of relations between India and China are a factor of stability amidst today's global uncertainties, and that the two countries should not allow their differences to become disputes.
The meeting between Modi and Xi was the first top-level interaction between the two countries after the Doklam face-off.
Troops of India and China were locked in a 73-day standoff in Doklam from June 16 last year after the Indian side stopped the building of a road in the disputed area by the Chinese Army. The face-off ended on August 28.
Sources said China has been keeping its troops in north Doklam and significantly ramping up its infrastructure in the disputed area.
Last week, defence minister Nirmala Sitharaman had said in Parliament that China was constructing helipads, sentry posts and trenches for its army personnel in Doklam area.
"Post disengagement from the face-off in 2017, troops of both sides have redeployed themselves away from their respective positions at the face-off site. The strength of both sides have been reduced," she had said
"In order to maintain these troops during the winter, People's Liberation Army (PLA) has undertaken construction of some infrastructure, including sentry posts, trenches and helipads," the defence minister had said.
Personalise your news feed. Follow trending topics