Farmers March LIVE updates: Avoid NH-44 due to protest, Sonipat cops advise commuters
Hindustan Times, New Delhi |
hindustantimes.com
Nov 28, 2020 10:12 PM IST
Representing more than 30 farm bodies, these farmers will be escorted to a protest site in New Delhi on Saturday for carrying out a peaceful demonstration.
Several high-voltage stand-offs later, farmers protesting three contentious farm bills passed by the government in September entered the national capital on late Friday, marking a headway in their Delhi Chalo march.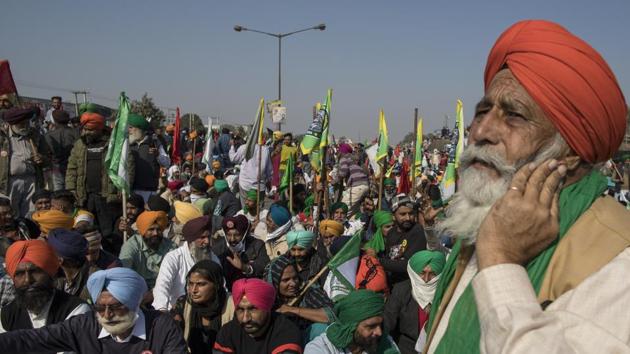 Thousands in count, these farmers faced multiple flashpoints with the police in riot gear using tear gas, water cannon, barricades and barbed wires upon entering Delhi from adjoining states like Haryana as they insisted to protest the three laws cleared by the Parliament, alleging that these laws will reduce their earnings in the market and give more power to corporations.
Stay tuned with breaking news on HT Channel on Facebook.
Join Now
Also read: Farmers let into Delhi after clashes at border
Union agricultural minister Narendra Singh Tomar assured farmers on Saturday the government was ready for talks on December 3.
On the other hand, Union minister Amit Shah on requested farmers to halt their protests and assured them that the Centre will discuss every issue that has been troubling them.
Here are the latest updates:
Haryana BKU chief, farmers booked for attempt to murder, rioting
Bharatiya Kisan Union (BKU) chief Gurnam Singh Charuni was booked by the Haryana Police for attempting to murder and rioting during the ongoing farmers protest, officials told news agency PTI.
UP farmers reach Delhi border to support ongoing protests
Farmers from Uttar Pradesh arrived at Ghaziabad - Delhi border expressing their support to the 'Delhi Chalo' protest march. Demands for guarantee in Minimum Support Price (MSP) were made and they said that further plans to be decided after discussion with other farmers, reports news agency ANI.
Farmer union meeting ends, decides to halt protests at Delhi Haryana border
General secretary of Punjab's Bharatiya Kisan Union Harinder Singh has said that the protests will continue at the Delhi Haryana border, after farmers' meeting. He also said that meetings would be held everyday at 11am to discuss further strategies, reports news agency ANI.
Narendra Singh Tomar assures talks with farmers on December 3
Union agriculture minister Narendra Singh Tomar has assured that government is ready for talks with the farmer unions on December 3.
He also asked all political parties to avoid 'playing politics in the name of farmers' and said that he hopes to meet the farmers during the meet, as reported by news agency ANI.
Randeep Singh Surjewala calls out Haryana government
In his latest tweet, Congress General Secretary Randeep Singh Surjewala has accused that the Haryana government has 'gone mad with ego.' He said that the government had no problem using water cannons on famers, but when a young man tries to stop it, he is charged with 'attempt to murder.'
Thousands of protesting Indian farmers and police face-off at New Delhi border
A day after clashes ended with an agreement that the farmers could demonstrate in the capital, tensions rose again in the protests over laws that farmers fear could rob them of minimum guaranteed prices for their produce.
Centre fails to address farmers' issues, says Bharatiya Kisan Union
Rakesh Tikait, leader of the Bharatiya Kisan Union (BKU) said that the Central government has failed to address the issues of the farmers.
"The government has failed to address the issues of the farmers. We are proceeding to Delhi now. We demand that there should a provision stating that there will be no sale of produce below the Minimum Support Price (MSP)," Tikait told PTI. .
After night halt, Punjab farmers resume march towards Delhi
Punjab farmers resumed their 'Delhi Chalo' march against the Centre's new farm laws on Saturday morning after halting for the night to join thousands who have already reached the national capital's borders.
Rahul Gandhi blames 'PM Modi's arrogance' behind viral photo of farmer getting beaten
Farmers gathered at Singhu, Tikri border points refuse to head to north Delhi protest site
Thousands of farmers gathered at the Singhu border held a meeting on Saturday morning amid heavy security presence and decided to continue demonstrating there even after being offered a site in north Delhi to hold their protest.
Those gathered at the Tikri border continued to hold ground as well. A decision on whether they would head to the designated protest site is expected soon.
Farmers start gathering at Delhi's Burari Ground
Farmers, mostly from Punjab and Haryana on Saturday morning began arriving at the Nirankari Samagam Ground on the outskirts of the national capital for a protest against the new farm laws.
After days of a standoff with police and after facing teargas shells, water cannons and barricading on various points on the Delhi-Haryana border by police, the farmers 'Dilli Chalo' march was allowed to enter Delhi on Friday and proceed to the ground in Burari situated in its north-west. The Tikri border was opened up for them.
Security deployment at Tikri border
Protesting farmers gathered at Tikri border despite being given permission to hold their demonstrations at the Nirankari Samagam Ground in Burari area.
Farmers from Fatehgarh Sahib on their way to Delhi to protest against Centre's farm laws
Farmers reach Nirankari Samagam Ground in Burari
Some farmers who managed to cross the border and enter Delhi yesterday have reached at the approved protest site -Nirankari Samagam Ground in Burari. A farmer says, "Our protest will continue till the Farm laws are not withdrawn. We are here for the long haul."
Security measures scaled up at Delhi-Haryana's Singhu border
Heavy security deployment is seen at the Singhu border (Delhi-Haryana) where protesting farmers are gathered.
Protest may intensify, farmers from 4 states look to join stir
Punjab and Haryana farmers protesting in Delhi on Friday got support from their counterparts in Madhya Pradesh, Rajasthan, Uttar Pradesh and Uttarakhand, who will join the stir in the next few days, farmer leaders from these states said.
Protests were observed on Friday in Maharashtra and Andhra Pradesh as well. There could be a possible stand-off on the Delhi-Uttar Pradesh interstate border on Saturday as farmers from UP, Uttarakhand and MP will try to enter the Capital from there.
Read more here
Protesting farmers retire for the night at Singhu border, set up langar
Farmers from Punjab who were part of the 'Delhi Chalo' movement retired for the night at the Singhu (Delhi-Haryana) border on Friday, after a gruelling day of confrontation with the police.