Five sins snuffing the life out of Narmada
Narmada is affected by too much love and too much neglect. Thoughtless intervention has made matters worse, along with a smattering of bad luck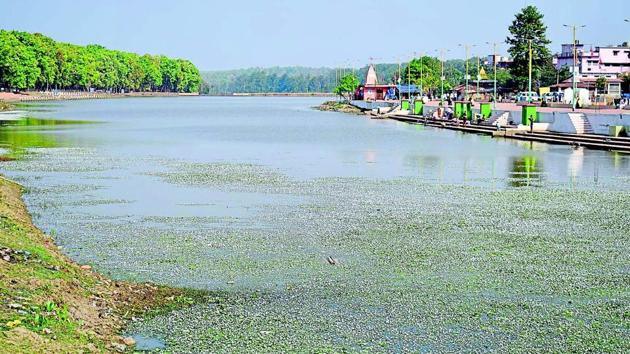 Updated on Apr 25, 2018 12:29 PM IST
A state government's report card for the first year of conserving the Narmada is due next month. Former Madhya Pradesh chief minister Digvijaya Singh has just ended his much-publicised parikrama at Narsingpur. Chief minister Shivraj Chouhan says he has at least started a conversation about conservation, while nothing was done during Digvijay's time. But experts say that the environmental degradation of the Narmada had, in fact, begun over two decades ago.
In 1998, Govind Kumar Mishra, now retired vice-chancellor of the Nanaji Deshmukh University, Jabalpur, and author of several books on the Narmada, took a jal yatra, travelling on water along with friends, including another academic and fellow author SK Tiwari.
In the infamous Shulpan jhadi (jungle), Bhils looted their belongings, and fed them a meal before sending them onward, stark naked - a loss the pilgrims attributed to surrender to the river. In others, they struggled to swim in dead water, the infected corpses of sadhus floating by. Outside cities, they found residue from industries, drains, sewage chugging directly into the river.
Today, Mishra continues his lifelong ritual of heading to the ghat at Jabalpur every morning. He says he has only watched the river deteriorate. "Swachh Bharat is meaningless if the ghats are swept but sewage from the cities flows into the river," he says. A number of thoughtless drives, mixed with well-intentioned ones, have harmed the ecological balance of the Narmada. Here are five key factors that expert blame for the decline of the Narmada.
The MP government often talks about the plantation of two crore saplings on a single day in July 2017. However, combatting deforestation and widespread eucalyptus plantations is not a one-time effort. The world over, eucalyptus plantations are dubbed 'ecological terrorists'. The forest department reportedly argued before the National Green Tribunal (NGT) that eucalyptus was an indigenous tree from Kerala. It was actually introduced to one of the Mysore royal palace gardens in the Nandi Hills in 1790. Its global push was a result of a thoughtless World Bank policy. Ramchandra Guha, in his book Environmentalism: A Global History, documents how in the 1970s, Thailand, pressed for foreign exchange, wiped out natural forests and planted acres of eucalyptus to provide chips to paper mills.
In a 2000 publication, 'India Alleviating Poverty Through Forest Development' in 2000, researchers in West Bengal reflected on its expensive mistake: "It is only now, almost 15 years after the approval of the last project… that one can look back and recognise those shortcomings..." it noted. Between 1960 and 1980, several states clear-cut natural forests and planted eucalyptus in their place. Uttar Pradesh was the worst hit, according to experts. "In the 1990s, Indian scientists were extolling the virtues of eucalyptus as a control system to intercept sewage water. In 2003, NABARD was funding Indian farmers to plant eucalyptus in 'waste lands'. Seedlings were distributed for free.
Eighty per cent of India's paper industry has depended on eucalyptus pulp, and paper mills opened along the river's course. Environmentalist Shardul Bajikar explains: "The tree has been a favourite of the social forestry department because it grows quickly and to a great height. Besides, it also became a source of good revenue. Indigenous trees shed leaves in summer to stop losing water. The eucalyptus, a perennial, works like a fountain, pulling water out of the soil and throwing it into the air." It also fixes nitrogen in the soil to the extent that it alters the chemistry, such that local species are unable to take root after the eucalyptus is uprooted.
Last year, the government passed a proposal to replace every eucalyptus with five fruit trees along each embankment at a budget of ~534.20 crore. Groups have been formed for the protection of the saplings. But the threat to saplings is not all external.
During the Namami Devi Narmade Sewa Yatra in May 2017, chief minister Chouhan announced the formation of an expert panel to submit a report while he executed a "complete mining ban".
In September 2017, the NGT passed an order on three applications pending before it to halt sand mining in Narsingpur, Jabalpur and Gadarwara. It cited previous 2014 orders that had brought in the 2016 Sustainable Sand Mining Guidelines. Along with the amendments in the state laws, the River Sand Mining Policy 2015, these were made fully operational from October 1, 2017.
The NGT also asked for geo-tagging, e-challans, geo-fencing, marked transportation routes, and a mining ban at the base of the river. Compliance was to be shown by October 3, 2017. The ban came into effect but it was lifted a month later, when on November 13, 2017, the CM tabled a new sand mining and sale policy, allowing the use of machines for mining in rivers other than the Narmada. Of 1,266 sand mines, 445 were auctioned. The new policy was implemented in the remaining 821 mines. In 2016-17, the state earned ~240 crore in sand mining royalty.
Several experts said they weren't invited to any meeting. But three professors at IIT Kharagpur, with whom the government has signed an MoU, attended at least three meetings and conducted field surveys. Among them, Prof Abhijit Mukherjee, a geologist, says he doesn't doubt the sincerity of the state government. "It is even involving various scientific agencies like the GSI to do a thorough understanding of the river course," Mukherjee said.
Mining goes on even in the chief minister's home constituency of Sehore. The former revenue minister, the Bharatiya Janata Party's (BJP) Kamal Patel, filed an application with the NGT in October 2017 alleging mining in Harda, Hoshangabad, Dewas and Sehore districts. He submitted evidence of the use of Pokelin machines, allegedly by a consortium of 'illegal miners and government officials' through private companies. "The chief minister tries, but we can only pass laws, those who have to execute them are hand in glove," he said. Lal Singh Arya, Harda district-in-charge, has filed complaints, as did former Indian forest service officer, Azad Singh Dabas, regarding mining in Harda and Hoshangabad.
In December 2017, the Gujarat high court observed that illegal mining was ravaging rivers. Government bodies such as State Environmental Impact Assessment Authority, however, shrug off jurisdiction. Sanjeev Sachdev, its chief scientific officer, said: "We do not have authority to monitor mining, we just use the mining department's reports as required." The NGT has had to issue orders for integrated action between government departments several times.
Sweeping the ghats is a cosmetic clean-up, sewage going directly into the river is a much bigger polluter. Nearly 50,000 dairy animals inhabit the banks of tributaries Parrihat, Hiren and Gour near Jabalpur. The Gaur is jocularly referred to as the 'gobar' (cow dung) river here. The NGT directed the creation of dairy hubs. These effluents also create nitrogen-enriched water that spawns Azolla weeds, or 'choee', which gives off a stench. The Panchayat and Rural Development Department aimed to make the Narmada basin open defecation free by 2018. However, the NGT observed that citizens opted for personal septic tanks and soak pits, which are effectively "turning all the natural drainage network of the township into a sewer network".
The NGT identified 54 urban/townships that pollute the river. Small industries, such as the textiles at Maheshwar, dump toxic dyes. At Hoshangabad, paper mills dump untreated effluents. Industrial zones, especially in Gujarat, offer the river up not only as a water source, but a ready drain. Brick kilns, already banned by the Environment (Protection) Act 1986, lead to erosion. The NGT asked industries to use treated water, but for that, Sewage Treatment Plants have to be actioned. An estimate of ~585 crores for the creation of 14 sustainability and transformation plans (STPs) was submitted, two have been actioned.
Other discharges into the river are plastic, prayer items, offerings and corpses. Despite a plastic bag ban announced a year ago, the MPPCB said it retrieved 11 tonnes of plastic bags in the last year.
In 2016, Prof Mukesh Katakwar, of the Department of Chemistry, Govt PG College, Pipariya, Hoshangabad, observed skin problems related to the high pH value of the water, due to caustic soda and soda ash from dyeing.
He found odour pollution and respiratory problems. Gastric ulcers were found because of impact of river pollution on crops and fish.
"The high level of im-migration to the area is putting considerable pressure on poor sanitation infrastructure and may be increasing the risk of contracting communicable diseases... yellow fever, cholera, dengue, malaria and other epidemic disease are also available in this area…." he noted.
Without intervention, and with climate change, the fear of the Narmada dying within a decade is not irrational - mainly because the river is 60% rain-fed, says AK Gosain, professor of civil engineering at IIT Delhi.
"The availability of water depends entirely on the demand imposed on it, and the demand is more than the availability. There is not only mineral and sand mining, but ground-water mining. Point pollution at source comes from sewage pouring into rivers but at non-point source, it also comes from fertilisers and pesticides. Unscientific planting of trees also won't solve the problem," he says.
Of the 28 million acre feet (MAF) pegged by the tribunal for water sharing with Gujarat, Rajasthan, and Maharashtra, 18.25 MAF goes to MP, 9 MAF to Gujarat, 0.25 MAF to Maharashtra, and 0.5 MAF to Rajasthan. This year, the sharing for anything beyond drinking water has been stopped effective March 15.
Madhya Pradesh CM Chouhan may have announced schemes that reach out to 1100 villages and 2.5 lakh people, collaborative work with 2000 NGOs, 700 Narmada Committees and the Narmada Seva Mission, but he's losing the optics battle. Narottam Mishra, state minister for water resources, public relations and parliamentary affairs, puts it down to impatience.
"The government has addressed a majority of the concerns of NGT in the Narmada Seva Mission action plan document. In fact, we have been very proactive. We don't have any magic wand. Do you see this level of action and planning in any other state with respect to conservation of rivers and environment?" he asked. It has been a year since Narmada Seva Mission was launched. "We have been exploiting rivers for generations, the treatment will take time," he said.
On April 8, Chouhan conducted a monitoring meeting and issued directives. The government says it has been proactive on banning polythene, tree felling, establishment of toilets, crematoriums, cracking down on illegal mining and polluting industries, and sewage treatment plants at a cost of ~1,500 crore.
But, for the Narmada, it may be too little, too late.
Close Story